Syria: Bashar al-Assad 'grants general amnesty'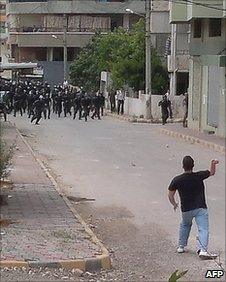 Syrian President Bashar al-Assad has issued a decree granting a general amnesty, state media say.
It said the amnesty would cover all political movements, including the outlawed Muslim Brotherhood.
Opposition figures were quick to dismiss the move.
The move comes after months of protests against President Assad's rule, leading to a crackdown in which activists say more than 1,000 people have been killed and 10,000 arrested.
The government has also offered some political concessions, but protesters have dismissed these as largely cosmetic.
The announcement of the amnesty came as at least three people were reported to have been killed in continuing clashes between security forces and protesters.
US Secretary of State Hillary Clinton said President Assad's position was becoming"less tenable" by the day.
"The demands of the Syrian people for change only grow stronger," she said, adding that Mr Assad had "not engaged seriously in any kind of reform efforts".
"President Assad grants a general pardon for the crimes committed before 31 May," said a bulletin carried by state media. "The pardon includes all those who belong to political movements, including the Muslim Brotherhood."
Syrian activists gathered for a conference in Turkey dismissed the amnesty offer, with one describing it as "too little, too late".
"This measure is insufficient," said Abdel Razak Eid, an activist from the "Damascus Declaration" group.
"We are united under the slogan: the people want the fall of the regime and all those who have committed crimes brought to account."
Another activist, Mohammad Abdullah, said the amnesty offer showed "weakness on the part of the regime."
In Washington, state department spokesman Mark Toner said President Assad needed to take "concrete steps".
"He's said a lot of things in recent weeks and months, but we've seen very little concrete action," Mr Toner said.
News of the amnesty came as army forces using tanks were reported to be attacking two towns in central Syria, Talbisa and Rastan, where protests have continued.
At least one civilian was killed in Rastan and two more in the southern province of Deraa, an epicentre for recent protests, activists said.
The official news agency, Sana, said two soldiers had been killed in Rastan, and that troops had seized arms.
Foreign journalists have been prevented from entering Syria, and reports of violence are hard to verify.
The Muslim Brotherhood has supported but did not initiate the current uprising.
The banned political movement was behind a 1982 uprising in the city of Hama that was ruthlessly repressed, with at least 10,000 killed.
Membership of the group is punishable by death, though this has not been enforced.
In March this year, shortly before protests escalated, President Assad issued an amnesty for those convicted of minor crimes and prisoners over the age of 70.
In April, the president lifted decades-old emergency laws, but violence by the security forces was widely seen to have got worse following the announcement.
The government has blamed the unrest on armed groups, Islamists and foreign agitators.