Bahrain ends state of emergency imposed after protests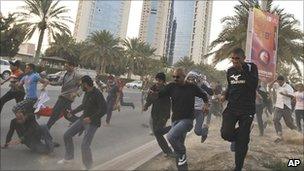 Bahrain has lifted the state of emergency imposed in March to quell pro-democracy demonstrations.
Activists have called for protests to restart, but security measures remain in place to stop large gatherings.
More than 20 people were killed during the government's campaign to stifle the demonstrations.
Human rights groups are demanding an end to the what they call the arbitrary detention and torture of protesters, as well as secret military tribunals.
On Wednesday, the leading Shia opposition party, al-Wefaq, said four of its leaders had been questioned by the prosecutors of a special security court set up under emergency rule in the Sunni-ruled country.
Bahrain's ruler, King Hamad al-Khalifa, has announced that a national dialogue on reform will begin next month.
The authorities hope the end of the 11-week emergency law will signal a return to normal for tourism and business, says the BBC's security correspondent, Frank Gardner.
They are especially keen to get back the Formula One race next March, correspondents say, after the unrest prompted this year's race to be postponed in March.
The joint Gulf security force, which rolled into Bahrain when the emergency was declared on 15 March, will stay in place until the government thinks it is no longer needed.
The force is largely made up of soldiers from Saudi Arabia and the UAE.
Related Internet Links
The BBC is not responsible for the content of external sites.