Egypt: Trial date set for Hosni Mubarak and two sons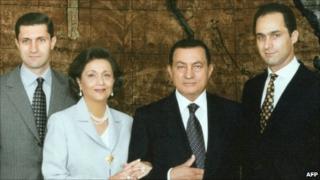 A court in Egypt has set a date for the trial of former President Hosni Mubarak and his two sons, Alaa and Gamal.
They will appear at a criminal court in Cairo on 3 August, charged with corruption and the premeditated murder of protesters during the uprising which toppled Mr Mubarak on 11 February.
If found guilty of the second charge, they could face the death penalty.
A powerful business associate of the Mubaraks, Hussein Salem, will be tried alongside them in absentia.
On Tuesday, a government-appointed panel of doctors told prosecutors that Hosni Mubarak was too ill to be imprisoned while awaiting trial.
They found the 83-year-old was at risk of a sudden heart attack, was too sick to get out of bed without help, and was suffering from depression.
He has been held in custody at a hospital in the Red Sea resort of Sharm el-Sheikh since being taken ill during questioning on 13 April.
His wife, Suzanne, was released on bail last month after she returned assets to the state. She is suspected of corruption.
The Supreme Council of the Armed Forces, which took power after Mr Mubarak's overthrow, has vowed to bring to justice all those guilty of abuse, but has been criticised for its handling of the transition phase.
An official inquiry found at least 846 people were killed in the 18-day uprising, many of them from gunshot wounds. At least 6,000 were injured.