Syrian ambassador to France denies resigning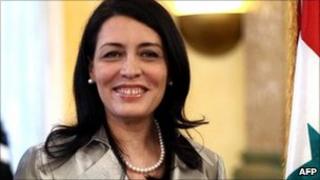 The Syrian ambassador in Paris has tried to clear up confusion over her status by appearing on French TV to deny that she had resigned in protest at the suppression of dissent.
In an interview from her embassy, Lamia Chakkour said an imposter had spoken to France 24 by telephone on Tuesday and that she intended to sue the channel.
A France 24 editor has said it appears that they were "the victims of a hoax".
But the station has also insisted it rang a number provided by the embassy.
Though Syria has been beset by 11 weeks of nationwide anti-government protests and a brutal crackdown that has left at least 1,100 dead, President Bashar al-Assad's government has remained united.
'Hefty price'
On Tuesday evening, France 24 spoke to a woman claiming to be Ms Chakkour. Asked about the violence, she announced she was resigning as ambassador, to the surprise of the interviewer.
"I can no longer continue to support the cycle of extreme violence against unarmed civilians," the woman said. "I can no longer ignore the young men, women and children who have died."
Ms Chakkour later spoke by telephone to Syrian state television and denied that she had quit.
She appeared on camera for the first time on Wednesday morning, when she spoke to BFM television from inside the Syrian embassy in Paris, sitting - at her insistence - in front of a picture of Mr Assad.
"I am absolutely amazed and it turns out that France 24, which I accuse of misrepresentation, of falsification, of misinformation and outright impersonation of the Syrian ambassador, has been disseminating messages in my name."
"I will remain in my post as long as President Bashar al-Assad, whom I represent in France, wishes me to be Syrian ambassador."
Ms Chakkour told BBC Arabic that any damages she received would be "paid to the children of the martyrs who have offered their lives everyday, from the security forces and the officers from the great Syrian army".
"Those imposters who faked the personality of the ambassador of the Syrian Arab Republic in Paris will pay a hefty price."
Renee Kaplan, a deputy editor at France 24, told France Info radio: "It seems in all probability we were the victims of manipulation."
But the channel also stressed that it had emailed the Syrian embassy's press office to ask the ambassador to participate in a debate. It was then sent a telephone number to ring.
"Following the broadcast, the Reuters news agency received an email from the Syrian embassy in Paris confirming what she had announced," a statement said.
"It was to our enormous surprise therefore that Ms Chakkour subsequently denied her comments."
France 24 said it too would pursue legal action against any persons or government agencies responsible if it was a hoax.