Syria: Middle East media ponder foreign intervention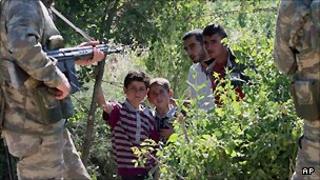 As the Syrian authorities step up their efforts to quell protests in the country, newspapers in the region are divided over whether foreign intervention should be envisaged.
Some commentators question the purpose of attempts by France and Britain to pass a UN Security Council resolution condemning the violence, while others ponder the implications of events in Syria for their own countries.
One Turkish commentator hopes his country will not get sucked into a messy intervention, while another asks why the West is not applying the same principles to Syria as it did to Libya.
Erdal Safak in Turkey's Sabah
Why is it that, despite the fact that Syrian President Bashar al-Assad bloody toll is close to exceeding that of Libyan leader Muammar Gaddafi, Western powers cannot do more than just whine? Why don't they dare using force against Assad like they did against Gaddafi for 'noble' reasons such as 'defending human rights' and 'paving the way for democracy'?
Yusuf Kanli in Turkey's Hurriyet Daily News and Economic Review
Despite reports of increased violence and an increasing number of refugees knocking [at] the doors of Turkey and with the support of its coalition of the willing, the US started campaigning for a Security Council resolution against Syria, Foreign Minister Ahmet Davutoglu wisely stressed Turkey was against the 'military option'. Let's hope that unlike the Libya case where Turkey reluctantly had to join in the NATO operation, Ankara manages to stay out of such a mess, which could have very serious spillover effects on Turkey's own security.
Ibrahim Karagul in Turkey's Yeni Safak
The only country that… looks for solutions, tries to limit the damage and does all this while not only thinking of its own interests, is Turkey. But Turkey's hand is also weakening. Ankara won't want to be seen to be on the same side as the Baath party gangs, which massacre civilians on the streets.
Sami Kohen in Turkey's Milliyet
What was feared has happened. Those who ran away from the chaos and clashes in Syria have started to take refuge in Turkey. Asylum seekers from Syria present only one of the problems caused by the popular revolt against the Assad regime.
Muhammad Yaghi in Palestinian paper lal-Ayyam
There are people wagering on foreign intervention in order to oust the regime in Syria. However, they should understand that foreign intervention will destroy their country and take them back to the age of backwardness and civil wars just as is the case in Iraq. What is more, the foreign intervention in Libya does not make us optimistic because two months after NATO's intervention, Gaddafi's forces are still able to attack [the rebel stronghold of] Misrata.
Ali Nasrallah in Syria's al-Thawrah
The French-British attempt to take action at the UN Security Council is without doubt an escalation attempt… We are aware of the level of the conspiracy, its dimensions and goals… However, we believe in our power, right and unity and we have confidence in our ability to foil their plots and to make their projects fail.
Sati Nur-al-Din in Lebanon's al-Safir
The ongoing discussion over Syria at the UN Security Council is a kind of absurdity that cannot serve any political purpose… It is absurd because no-one expects the Council to reach consensus on a serious decision that puts an end to the crisis or determine the way to get out of it; most likely, it will escalate the crisis more and will create confusion among the ruling system and its opponents about internationalization.
Samir Saliha in Iraq's Al-Sharq al-Awsat
Syrian Foreign Minister Walid al-Mu'allim's recent visit to Baghdad and his earnest bid to coordinate with Iraqi Prime Minister Nuri al-Maliki could turn into a joint strategy to hold Turkey's 'overly aggressive' regional policies in check. This joint Iraqi-Syrian strategy could easily be expanded into a tripartite alliance by enlisting Iran if necessary to get across the message that unless Turkey rethinks its position on such issues as the growing demand for more drastic political changes and fewer restrictions on public and individual freedoms, its interests in these three countries will be at risk.
Editorial in Israel's Ha'aretz
Anyone who thinks that the crisis in Syria affords Israel an opportunity to 'change reality' would do well to put aside such dangerous delusions; this is particularly apposite now, 29 years after Israel's invasion of Lebanon. That, too, was aimed at changing the situation in another country. And as an occupier that itself used, and still uses, weapons against Palestinian civilians in the territories and in Israel, Israel is far from having earned the right to denounce others...
Editorial in Arab Israeli paper Sawt al-Haq wal-Hurriyah
The crimes committed by the forces of the Syrian regime against the sons of the Syrian people have crossed all red lines… However, we do not know whether to laugh or cry upon hearing US President Barack Obama's Secretary of State Hillary Clinton talking with much sympathy about the martyr child Hamzah al-Khatib, killed in an ugly way by the forces of the regime, as though the empire of crime had not shed the blood of tens of thousands of Afghani, Iraqi and Pakistani children… Where was Clinton's 'humanity' when the Israeli occupation forces shed the blood of thousands of Palestinians in Gaza and the West Bank…?
BBC Monitoring selects and translates news from radio, television, press, news agencies and the internet from 150 countries in more than 70 languages. It is based in Caversham, UK, and has several bureaux abroad.