Syria: Jisr al-Shughour refugees too afraid to go home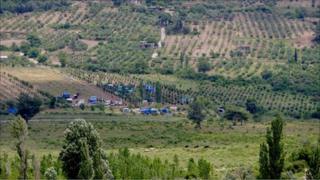 From the roof of Kader's home in the village of Guvecci, you can see fields of olive trees, a boy herding sheep, and then a smooth road that winds up the hill. This is the border, and the fields on the other side are in Syria.
There are a few stone houses, and now, a cluster of cars and tarpaulin shelters. These are a few of the thousands of refugees who have not yet crossed the border.
Overlooking this tranquil scene is a large Turkish army post. Military vehicles, and an occasional ambulance, patrol the road.
No-one on this side of the border is supposed to go to the Syrian camp, but enterprising young men from Guvecci can show you a hidden route through the hills - for a price.
But you do not need to go there. The people from the camp come here every day, to buy supplies and meet up with relatives.
Military and media
Kader told me she had just been visited by a cousin who is in one of the camps and who badly needed a bath. Family ties straddle this frontier, and many of the displaced Syrians are staying with relatives.
None of them want to give their names. They have all been badly frightened by events around the town of Jisr al-Shughour in the past week.
One man told me government forces had been burning their crops and shooting randomly at civilians. A relative had been killed, he said, and that was enough to persuade him to leave his house and camp out by the Turkish border.
They feel safe there, under the scrutiny of Turkish troops and a sizeable media presence. But they are not ready to come across and be registered in one of the Turkish camps.
"I don't want to give my name," the man said. He has animals too, which the Turkish authorities will not allow over the border.
Conditions are rough. Heavy rain over the last couple of days has churned up mud. In the mornings, the people here are wet, and cold, and struggle to light fires to warm themselves.
They have been trying to rig up a water supply in the small camp we can see, but for the moment women have to walk across the fields with buckets of water.
There are lots of children, and people we have met say that in the other makeshift camps over the hills thousands of others are in need of help.
The Turkish soldiers let them come over to buy food and other supplies. Sometimes the soldiers have helped deliver donations from Turkish well-wishers.
But this has always been a tightly controlled border on the Turkish side, and the military wants to keep it that way.
As for the Syrian forces, we are assured they will not dare come close to the border, but they are not far away.
Just who is doing the shooting still is not clear. One refugee who went back yesterday to retrieve some possessions was shot by a sniper while in his car. He is lucky to be alive.
The official Turkish view is that this is a temporary exodus, that the Syrians will all return once things calm down around Jisr al-Shughour. Perhaps they will.
But the ones we have met are adamant they will not go back until President Bashar al-Assad's government is overthrown.
Many of the refugees talk about Syrian intelligence officers going door to door in their villages, with a list of names.
There are countless stories of unspeakable atrocities, impossible to verify. But so long as they are believed, the Syrians will probably stay.