Gas explosion kills four in Israeli town of Netanya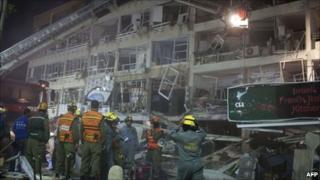 An explosion caused by a gas leak has killed four people in the Israeli coastal town of Netanya.
Police said the blast, which occurred late in Thursday night, was likely to have been caused by negligence.
More than 60 others were injured by the blast, which badly damaged a four-floor building. Rescue workers have been searching the debris for survivors.
Police arrested a man on suspicion of accidentally cutting a gas pipe that caused the leak that led to the blast.
Many of the injured were sitting in a restaurant on the ground floor of the building when the blast hit.
"The explosion was apparently caused by negligence," police spokesman Micky Rosenfeld told the AFP news agency.
He confirmed that the attack was not criminal or gang-related, or an act of terrorism.
He added that a scrap metal dealer had been arrested in connection with the incident, and an employee of the gas company which supplied gas canisters was being questioned.