Inside Syria with the stranded refugees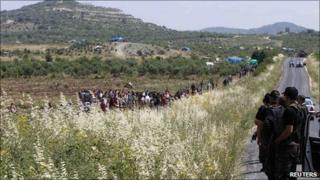 There is a cooling breeze through the olive grove, which is just as well as the sun is high and hot.
The guide walks quickly, beckoning us along the dirt track. He makes a phone call, asking others along the route where the guards are.
At one point he even calls a friendly guard he knows who tells him when it is clear to cross.
Then he is running. I glimpse a Turkish border post as we cross a road - out in the open for a few seconds - before dipping down into the bushes lining the slopes of the ravine.
Ten minutes later, slightly breathless, there's a parked car with Syrian plates.
The country has been, in effect, sealed off to international journalists for three months. And now, here we are.
There are an estimated 10,000 people stranded along the border. They live under tarpaulins and next to camp fires.
In one tent sits an elderly woman, her skin wrinkled with age, her face trembling as she speaks.
She doesn't really understand what's going on, just that she is afraid of her own army, of what it might do. That is why she fled, she says.
Ever since the army started its offensive in this part of Syria, many like her have left their homes.
Some cross the border into Turkey, others into camps like this one.
They all have stories to tell, which cannot be verified. But they talk of the brutality of the soldiers who President Bashar al-Assad says have been sent to protect civilians against religious extremists.
One man describes how he and others watched from above the town of Jisr al-Shughour as the army moved in.
They went in with bulldozers, he says. They attacked buildings and he saw at least one being demolished. Others were set on fire.
He didn't see anyone killed, but another man, a taxi driver sprawled in the back of a van, said he had.
He had picked up one of the injured in the army's offensive on Jisr al-Shughour and driven him out of the town. The man had died on the way.
Our guide was nervous. There was a shift change on the border patrol he said and he wanted us to move now, back across to take advantage of it.
As we moved up the hillside, the call to prayer sounded from the village nearby.
It wafted on the breeze, up the slopes of the valley, and towards the Syrian forces, still carrying out their operations on the other side of the hill.