Yemen: President Saleh 'was injured by palace bomb'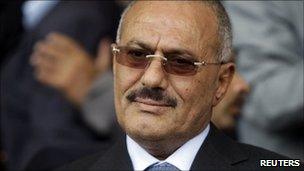 A blast that injured Yemeni President Ali Abdullah Saleh earlier this month was caused by a bomb planted in his palace, Western diplomats have said.
Officials had initially said mortars or rockets were fired at the compound in the capital Sanaa, amid ongoing protests against Mr Saleh's rule.
But the unnamed diplomats said large amounts of TNT had now been found, suggesting an assassination attempt.
Mr Saleh was taken to Saudi Arabia for treatment and has not yet returned.
He is believed to be suffering from shrapnel wounds, broken bones, smoke inhalation, internal bleeding and extensive burns.
Seven people were killed in the incident, while Prime Minister Ali Mohammed Mujawar and at least two other senior officials were also seriously injured.
Western diplomats have been helping the Yemeni authorities to investigate the attack and have confirmed that a large quantity of the high explosive TNT had been placed inside the mosque where President Saleh attended Friday prayers.
Other bombs were found undetonated in the mosque, they said, which was confirmed to the AFP news agency by a Yemeni security official.
Mr Saleh has ruled Yemen since 1978. His departure followed weeks of unrest that brought the country to the brink of civil war and left more than 350 people dead.
There were celebrations in the streets of Sanaa when Mr Saleh was flown to Saudi Arabia on 6 June.
The government has insisted he is still the president and will return to Yemen.
But the Western diplomats said Mr Saleh was "seriously injured " and would not be going home soon.
BBC world affairs correspondent Richard Galpin says the West is hoping the Saudis will be able to persuade him the time has come to stand down, and hand power to his deputy.
Senior US diplomat Jeffrey Feltman met Yemeni officials on Wednesday to discuss the crisis and is due to fly to its influential neighbour Saudi Arabia for further talks.
He said on Thursday that it was "time for Yemeni political leaders to work together for an immediate and peaceful transition of power".
Mr Feltman said any decision on ousting Mr Saleh would be left to Yemenis, but that the US expected him "to take a decision in the best interests of the Yemeni people".