Hassan Nasrallah: Hezbollah men 'spied for CIA'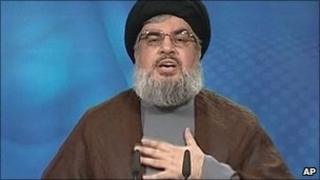 The head of Hezbollah has said two of the Lebanese Islamist group's members have confessed to working for the CIA.
Sheikh Hassan Nasrallah said a third man was under investigation, accused of spying for the US intelligence agency.
The three men, who have been detained, had not compromised Hezbollah or its military capabilities, he said.
The US, which lists Hezbollah as a terrorist organisation, insisted there was no truth in Sheikh Nasrallah's claims.
Embassy 'spying centre'?
In a video message aired on Friday, Mr Nasrallah accused the US of working on Israel's behalf.
"The Israelis failed to penetrate the structure of Hezbollah so they have turned to the CIA for help," he said.
"The information that those CIA officers requested from the (members) does not interest the American administration, it is military details that interests Israel in any war.
"This confirms that the American embassy (in Beirut) is a centre for spying for Israel."
A US embassy spokesman said there was no substance to the accusations.
"These are the same kind of empty accusations that we have heard repeatedly from Hezbollah," the spokesman said.
Hezbollah has two ministers and many other allies in the recently formed Lebanese government.