Iraq jails widow of al-Qaeda chief Abu Omar al-Baghdadi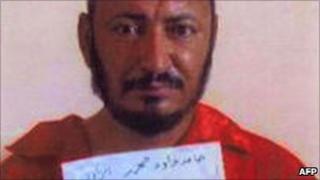 A court in Baghdad has sentenced the widow of al-Qaeda's former Iraq chief to life imprisonment for assisting her husband to carry out suicide attacks.
The woman, who officials identified by her initials WJ, was the wife of Abu Omar al-Baghdadi, the former head of the Islamic State of Iraq.
Baghdadi was killed in April 2010, along with Abu Ayyub al-Masri, another prominent al-Qaeda leader in Iraq.
Masri's wife was convicted on Thursday, also receiving a life sentence.
'Cover and shelter'
Abdel Sattar al-Beriqdar, spokesman of Iraq's High Council of Justice, said the woman was found guilty of co-operating in terrorist attacks carried out by Baghdadi, including controlling the cash and suicide vests.
"The criminal WJ confessed she participated with her terrorist husband in many armed terrorist operations in different areas in the country," Mr Beriqdar said in a statement.
He also said the life sentence, usually 20-25 years in Iraq, could be appealed.
On Thursday, the court sentenced Hasna Ali Yahya, a mother of three and the Yemeni wife of Masri, an Egyptian.
Mr Beriqdar told Reuters that Yahya was convicted "according to article four of the anti-terrorism law for (providing) cover and shelter to the terrorist group of Abu Ayyub al-Masri."
The two al-Qaeda leaders were killed in a raid on a safe house north of Baghdad by joint US-Iraqi forces, in what was hailed as a significant blow to al-Qaeda in Iraq.
At the height of Iraq's sectarian violence in 2006 and 2007, thousands were killed in bomb attacks on markets and mosques carried out by al-Qaeda and other militant groups.