Profile: Former Lebanese PM Rafik Hariri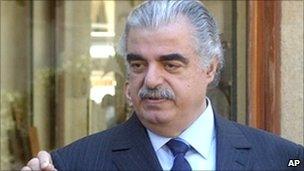 Rafik Hariri was a dominant force in Lebanese politics in both life and death.
As prime minister of Lebanon, he is widely credited with getting the country back on its feet after the devastating 15-year civil conflict.
He held office from 1992 to 1998 and again from 2000 until his resignation in 2004 - a total of five terms.
But on 14 February 2005, a year after he quit as leader, explosives were detonated as his motorcade drove past the St George Hotel in the Lebanese capital, Beirut.
His death had profound implications in Lebanon, paving the way for the Cedar Revolution and the withdrawal of Syrian troops from the country after 29 years.
The investigation into his murder led to years of political turmoil.
An unprecedented international tribunal began at The Hague in January 2014, at which four suspected members of Shia militant group Hezbollah were tried in absentia for the murder of Hariri.
Hariri was born in 1944 to a poor Sunni Muslim family in the southern port of Sidon.
After training as a teacher, he went abroad to seek his fortune, following a path well-trodden by many of his countrymen.
He found employment in a construction firm in Saudi Arabia, eventually establishing his own firm, Saudi Oger.
He became the personal contractor for Prince Fahd, who went on to become king of Saudi Arabia, and amassed a fortune that propelled him into the US magazine Forbes as one of the richest 100 men in the world.
A flamboyant figure, he was well regarded among international leaders, counting French President Jacques Chirac as a close friend.
When he returned from Saudi Arabia in 1992 as prime minister, he was seen as a breath of fresh air in a country dominated by former militia leaders.
Ordinary people pinned hopes on the dynamic tycoon to restore Beirut's pre-war reputation as a leading financial centre.
He put the country back on the international financial map through the issuing of Eurobonds and won plaudits from the World Bank for his plan to borrow and beg for reconstruction money.
But his economic record was mixed: his ambitious borrow-and-build schemes left massive public debt and budget deficit, which pushed up interest rates and slowed growth.
He was accused of ignoring the poor, despite his long record of funding charitable causes.
Ordinary Lebanese began to judge him by the same standards of cynicism applied to other politicians, many of whom had made their fortunes in civil war activities.
When he left power in 1998, it came about partly because Hariri was reluctant to play second fiddle to President Emile Lahoud, a former army chief.
Hariri's legacy was further tainted by accusations of corruption and he also faced criticism for saddling the country with big debts.
But Hariri returned in October 2000, taking his old job back off the political veteran Selim al-Hoss.
He presided over a revival in Lebanon's tourism industry, largely thanks to hundreds of thousands of visiting Gulf Arabs.
But he again fell out with his pro-Syrian government colleagues during the crisis over the extension of President Lahoud's term in office.
He never overtly came out against Syria in the dispute, but his resignation in October 2004 was taken as a clear protest against the Syrian pressure to keep Mr Lahoud in office.
It was a move which some say cost him his life.