Israel-Lebanon sea border dispute looms over gas fields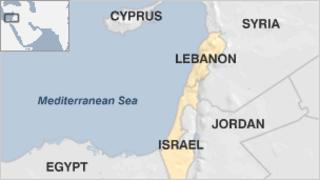 A maritime border dispute is looming between Israel and Lebanon that could set off a new conflict over lucrative energy reserves.
The neighbouring countries have declared overlapping boundaries in the Mediterranean Sea.
As the two states remain formally in a state of war, the United Nations has been asked to mediate.
Israel recently discovered two gas fields off its coast which experts say could turn it into an energy exporter.
It will send its proposal for a demarcation line to the UN within the next few days after the cabinet approved it on Sunday.
"This boundary will delineate the area in which the state enjoys exclusive economic rights, including the right to exploit the sea's natural resources," the Israeli Prime Minister, Benjamin Netanyahu said.
"Our goal is to determine Israel's position regarding its maritime border, in keeping with the principles of international maritime law."
The Israeli line gives it more territory than the one that Lebanon drew and submitted to the UN several months ago.
Mr Netanyahu said that the line drawn by the Lebanese conflicted both with one that Israel agreed with Cyprus and one that Lebanon agreed with Cyprus in 2007.
The Lebanese energy minister, Gebran Bassil, countered that Beirut had stuck to international law. "Lebanon has drawn its [maritime] borders based on the UN Convention on the Law of the Sea," AFP quoted him as saying.
He also warned that "no Lebanese will accept either the renunciation of their energy resources or their maritime rights".
Big finds
Israel has long been dependant on energy imports in a largely hostile region. The problems that can ensue have been highlighted by recent attacks on pipelines bringing gas from Egypt, to the south.
While small commercial quantities of offshore gas had been found in the past, officials believe two recent major discoveries could eventually supply all the country's energy needs and enable it to export.
The Tamar field, 90km off (55 miles) the coast of northern Israel, was the world's largest gas find in 2009. Production is expected to begin within three years.
Last year, the discovery of the Leviathan field, 45km farther out to sea, was said to be the largest deep water natural gas find in a decade. Exploratory drilling is now under way.
Israel is believed to want to establish a pipeline to Greece, to export gas to Europe. However, before a deal could be made it would need to agree boundaries for an economic exclusion zone with Cyprus and Lebanon.
Tensions with Lebanon rose after it was reported to have begun its own undersea oil exploration and Iran offered its help.
While there is no agreed land border between Israel and Lebanon, both countries are committed to a ceasefire along the so-called Blue Line. This boundary was drawn up by the UN after Israel withdrew from southern Lebanon in 2000.
Experts say that the lack of an official land border makes it more difficult to decide a precise maritime one.