Egypt to sack 700 police over killing of protesters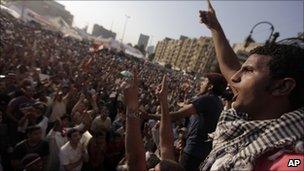 Almost 700 senior police officers in Egypt are being removed from their jobs over the killing of protesters during the revolution earlier this year.
Interior Minister Mansour Essawy said 505 generals and 164 officers would end their service on 1 August.
The move comes as protests continue in Cairo's Tahrir Square, calling for the speedy trials of police officers and corrupt Mubarak-era officials.
The military also confirmed that polls set for September would be delayed.
"It has been decided to hold [parliamentary elections] in October or November," an official from Egypt's interim ruling military council told the Mena state news agency on Wednesday.
Many of Egypt's new political parties have called for the vote to be delayed so that they can compete against better organised and more powerful opposition groups, notably the Muslim Brotherhood.
On Tuesday, the military said it would draft guidelines for selecting the 100-member assembly that will write a new Egyptian constitution. That could make it more difficult for any Islamist-led legislature to choose the body and thereby give the charter an Islamist slant, analysts say.
As protests in Tahrir Square entered a sixth straight day, the interior ministry - which oversees the much detested security services, known for their brutality under the Mubarak regime - unveiled what it termed the "biggest shakeup in the police force's history".
Among those dismissed were 505 major-generals, including 10 of the interior minister's top assistants, 82 colonels, and 82 brigadiers, the report said.
Egyptian state TV said that 37 of the dismissed officers face charges of killing protesters.
More than 800 protesters were killed during the 18-day revolt that led to the ousting of President Hosni Mubarak on 11 February.
The move seems to be a victory for Egypt's embattled Prime Minister Essam Sharaf, says the BBC's Jon Leyne in Cairo. An earlier announcement by him to take similar action was blocked by the interior minister.
Protesters have vowed to keep up pressure on Egypt's military rulers. They are calling for a new government, limited power for the military council, the release of civilians being tried in military tribunals, and speedy public trials for former regime officials.