Syrian forces kill two protesters in eastern crackdown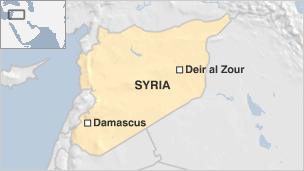 Syrian forces killed two people when they fired at a pro-democracy protest in the provincial capital of Deir al Zour, according to local witnesses.
At least five more people were wounded in the shooting, said Abdel Karim Rihawi of the Arab League of Human Rights.
The city's residents were said to be observing a general strike.
The incident was part of a crackdown against the opposition in the tribal region near the border with Iraq.
Reports of a strike being observed in several towns and cities have come from a number of witnesses posting online.
The call for a strike is reflected on the Facebook page, Syrian Revolution 2011, which functions as an opposition forum.
The military has also been active in the capital, Damascus, as well as villages in Idlib province and near the Turkish border.
On Wednesday, security forces wielding batons dispersed 250 intellectuals and media figures in the Midan district of Damascus, according to Abdel Karim Rihawi. He said four people were arrested.
In another incident reported on Wednesday, security forces killed four civilians in the Jebel al-Zawiya region of the northwestern province of Idlib.
The army deployed heavily in this area two weeks ago, in response to opposition activity, according to Rami Abdel Rahman, head of the Syrian Observatory for Human Rights.
The BBC is not permitted to send reporters to Syria, so we are unable to confirm these reports directly.
French President Nicolas Sarkozy has said he wants further sanctions against the Syrian government, because of the continued crackdown.
"The attitude of the Syrian president is unacceptable. We must strengthen sanctions against the regime, which is applying the most brutal methods against its population," said President Sarkozy in a television interview.
France has led the drive for a UN Security Council resolution condemning Syria's suppression of reform protests.
More than 1,400 civilians and 350 security personnel have been killed since the unrest began in Syria in March. And human rights groups say more than 12,000 have been arrested.