Syria: Tens of thousands attend protester funerals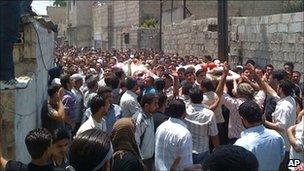 Tens of thousands of Syrians have attended funerals for people killed in Friday's anti-government protests.
Reports say in some places security forces tried to break up the crowds, who were chanting slogans as they carried the coffins in the streets.
At least one person was reported to have been shot dead by security forces in a protest near the Iraqi border.
The funerals came as opposition figures met in Turkey to discuss uniting to oust President Bashar al-Assad.
One of the leaders of the National Salvation Congress, Wael al-Hafez, reportedly called for a campaign of civil disobedience.
At least 28 people were killed in Damascus and other cities on Friday, in what some said were the largest protests since the anti-government uprising began in March.
Videos posted on the internet apparently show thousands of protesters carrying coffins through the streets of the capital, Damascus on Saturday and calling for freedom.
International journalists have been denied access to Syria and the figures cannot be independently verified.
Activists said security forces opened fire on a protest in the eastern border town of Albu Kamal near the Iraqi border, killing one person and injuring others.
"Military Intelligence patrols fired on a crowd at the main square," one witness told the Reuters news agency.
The opposition to President Assad includes many different groups, from secular liberal to Islamists but no overall opposition leader has emerged.
On Saturday, hundreds of Syrian opposition figures began meetings in Turkey to discuss uniting against him.
"We want to raise the intensity of the peaceful confrontation by civil disobedience and to choke the regime economically and paralyse the state with the least damage," Mr Hafez told the meeting in Istanbul.
But reports say the meeting exposed divisions, with Kurdish activists - who have long complained about discrimination - pulling out after accusing other participants of marginalising them and ignoring the Kurdish issue.
Prominent opposition figures who had gathered in Istanbul initially wanted to elect a shadow cabinet, but the idea was scrapped amid fears it would monopolise the opposition.
A parallel meeting in Damascus was broken up by the authorities, activists said.
However, some dissidents were able to address the conference by phone.
US Secretary of State Hillary Clinton, who is visiting Turkey, did not comment on the opposition meeting but called on the regime to open talks with the opposition.
"The brutality has to stop," she said.
Turkey used to be a close ally of President Assad but has recently joined calls for him to implement reforms.
Human rights groups say that about 1,400 civilians and 350 security forces personnel have died in the four months of protest.
The government blames the unrest on "armed criminal gangs" backed by a foreign conspiracy.
In an attempt to defuse the unrest, ministers recently held a two-day "national dialogue" between members of the ruling Baath party and its opponents.
However, many opposition leaders and protest organisers refused to attend.