Egypt: Hosni Mubarak stroke and coma claim denied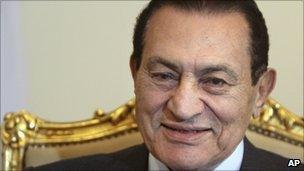 Hosni Mubarak's lead doctor has denied claims that the deposed Egyptian president has suffered a stroke or fallen into a coma.
Dr Assem Azzam said he had suffered a bout of low blood pressure, and was in stable condition.
Mr Mubarak has been receiving treatment in a hospital in Sharm el-Sheikh since he was ousted in February.
He is being held on charges of corruption and ordering the killings of protesters during Egypt's uprising.
Mr Mubarak is due to go on trial on 3 August.
"I checked on him. He is in stable condition. What happened is he got a little dizzy because his blood pressure was low. The doctors are dealing with that," said Dr Azzam. "It is only hypotension, not a coma."
Mr Mubarak's lawyer, Farid el-Deeb, had earlier said: "The president had a sudden stroke. Doctors are trying to bring him to consciousness. He is in a total coma."
The BBC's Jon Leyne, in Cairo, says supporters of the opposition believe that Egypt's military rulers do not want the trial to go ahead, for fear of the embarrassment if might cause them.
He adds that this latest episode will only increase their scepticism about any reports on Mr Mubarak's health.
Meanwhile, Egyptian Prime Minister Essam Sharaf has begun his promised cabinet reshuffle as protests continue over the slow pace of political reform.
Foreign Minister Mohammed al-Orabi has resigned and has been replaced by Mohammed Kamel Amr.
Two new deputy prime ministers have been appointed: economist Hazem El Beblawi, 74, and 75-year-old Ali al-Silmi, a leader of the Wafd party, Egypt's oldest political party.
Among protesters' demands are for corrupt officials who served under President Mubarak to be tried.