Jordan riot police held over Amman clashes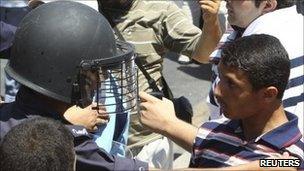 The Jordanian authorities have detained four police officers on suspicion of using excessive force against pro-democracy protesters and journalists.
Friday saw baton-wielding police officers clash with dozens of demonstrators trying to set up a protest camp in the centre of the capital Amman.
At least 15 people were injured in the confrontation.
Among them were several photographers and journalists.
This has led to claims that police targeted reporters to stop them covering the protest.
About 100 journalists held a protest in Amman on Sunday to condemn the police action.
Police spokesman Lt Col Mohamed al-Khatib said an investigation was under way to determine whether policemen had broken the law. He said more officers could be arrested.
The Jordan Press Association has said it plans to sue the country's police department.
Jordan, in common with Arab nations across the Middle East, has seen the recent emergence of a protest movement demanding political and economic reforms, and an end to corruption.