Iranian troops attack Kurdish PJAK rebel bases in Iraq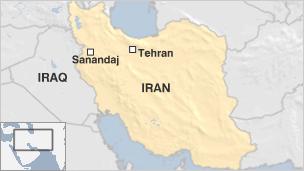 Iranian forces have inflicted a "heavy and historic defeat" on Kurdish rebels based in Iraq, army officials say.
Iranian troops took control of three camps of the Kurdish rebel group, PJAK, which operates from northern Iraq, Col Delavar Ranjbarzadeh said.
But rebel sources denied the claims, saying they had killed 53 soldiers and lost only two rebel fighters.
PJAK, which calls for autonomy for Iran's minority Kurds, is regularly targeted by Iranian forces.
Col Ranjbarzadeh, a local commander of Iran's powerful Revolutionary Guard, said that "a large number" of PJAK members had been killed in clashes that broke out on Saturday.
"Three bases in Iraqi territory were providing assistance to the terrorists... All have fallen into the hands of the [Iranian] forces," he told Iran's official news agency, Irna.
PJAK rebels say that Iranian forces crossed into Iraq's semi-autonomous Kurdish region to fight them.
They say that rebels killed 53 Iranian soldiers and wounded 43, while only two PJAK members were killed and seven wounded, AP news agency reports.
Iran threatened last week to attack PJAK bases in Iraqi Kurdistan after accusing regional president, Massoud Barzani, of providing bases to the group.
PJAK - the Free Life Party of Kurdistan - was formed in 2004 and is linked to the Kurdistan Workers' Party or PKK, the separatist group based in Turkey.
Related Internet Links
The BBC is not responsible for the content of external sites.