Ramy Essam: Singer catapulted to fame on Tahrir Square
By Stephanie Hegarty
BBC World Service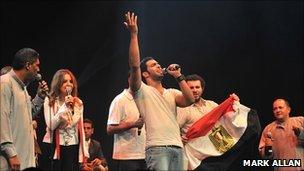 Until six months ago, Ramy Essam was a normal student. Then the protest movement that shook Egypt and toppled President Hosni Mubarak transformed him into a hero and one of the most recognised singers of the revolution.
On 11 February, when the crowds at Cairo's Tahrir Square first heard that the Egyptian president had stepped down, a group gathered in front of a makeshift stage. They were poised to listen to a young singer play one of their favourite songs.
The melodic chant had become an anthem of the revolution. "Irhal, irhal" or "leave, leave" they cried, calling for Mr Mubarak to step down.
The performer was a 24-year-old student from Mansoura, in the Nile Delta region, north of Cairo. He had shot to the forefront of the revolution with a collection of songs that captured the fear, optimism and defiant demand for change that was sweeping across the country.
"Irhal" was a song he cobbled together from the protest chants of the revolution's early days. As he stepped up to perform it once again he realised the words were redundant - Mubarak had gone.
He quickly scribbled down new lyrics, changing the cry from "leave" to a demand for the end of military rule.
"I will never forget, there was a mother of a martyr who was with us all the time and she never laughed or smiled," Mr Essam told the BBC World Service's Outlook programme.
"It was at that moment when she looked really happy and started smiling because she heard that the words of the song had changed."
Ramy Essam came to Tahrir Square with his family at the end of January, following the success of the protest movement in his home town of Mansoura.
He had first picked up a guitar at the age of seven and in the past three years had taken to writing political songs that captured the Egyptian desire for change.
When he left for Tahrir Square, his brother and a friend convinced him to bring along his guitar.
"At that time, they didn't have any stages," he recalls. "There weren't many people around because people didn't know if the revolution would work."
"It was on a day which they called 'Angry Friday' [28 January], I saw people dying, people were getting hurt and I thought, I'm either going to live free or I'm going to die... So, I wasn't thinking I just went on to the stage and sang."
On 1 February, Mr Mubarak made his second televised address, reiterating his refusal to step down. The tide of public opinion seemed to be turning against the revolution and Essam took to the stage again.
He was overwhelmed with the protesters' response this time and realised the power that his music had to lift the spirit of the revolution.
But the protest movement was still in its early days and those involved were in very real danger.
"If the revolution wasn't successful then I would have been really lost," he says. Mr Essam was one of the first to stand up on stage and directly attack Mr Mubarak, calling the president by name and telling him to leave.
The following day a group of Mubarak supporters - together with thugs widely believed to have been hired by the ruling party - stormed the square on camels and attacked protesters.
After they fought the attackers off, protesters gathered in front of the stage.
"I was hit on my head and my mouth [but] for two days I carried on singing," Mr Essam remembers. "It was funny because I had bandages but then everyone who was listening to me had bandages too. But we were happy because we felt like we had won that battle."
It was 11 February when Mr Mubarak finally stepped down and Mr Essam sang his altered lyrics to the crowd, but for those demanding change the battle was far from over.
In March, he returned to Tahrir Square with a group of protesters to demand an increase in the pace of change.
The army descended on the square to clear the remaining protesters on 9 March. A group, including Mr Essam, were rounded up and brought to the nearby Egyptian museum where they were beaten and tortured.
Mr Essam says he was singled out as a troublemaker and treated even more brutally than the others. "Normally one army officer would torture a group of people but I had a group of officers just on me.
"They called me by name and knew that I was there as a symbol so they stripped me down and electrocuted me.
"I had really long hair and they cut it with glass. They hit me with metal bars and wooden sticks and they jumped on my back and my head."
He believes he was targeted in the hope that he would go out and tell people what happened to him, inspiring fear in what remained of the protest movement.
"It had the opposite effect", he says. "I had to spend two weeks in bed but after that I felt stronger than before and I knew that I was in the right and they were wrong. The first thing I did was to go back to Tahrir Square and sing songs against them describing what happened to us."
Though he continues to camp in the square Mr Essam is now torn between a booming music career and his commitment to the continuing revolution.
He is travelling to Britain, France and Germany where he has been booked to perform his protest music and is working on his first album. He has performed all over Egypt and done countless television and radio performances.
"I think this is also a valid way of protesting because I'm translating what is happening in the streets of Cairo to the world," he says.
"But at the same time the revolution is my priority and I've got a responsibility to the people who are on the street because they expect me to sing about what's happening."
Unlike other pop stars - who were accused of jumping on the bandwagon of the revolution only after it gained widespread popularity - Mr Essam considers himself, first and foremost, a revolutionary.
Zakaria Ibrahim, founder of Egyptian folk band El Tanbura, acknowledges this transformation of a young man unknown before the revolution.
A veteran of the resistance movement in Egypt who went to jail in the 1970s for revolutionary writing, Mr Ibrahim also performed at the square throughout the protest movement.
"We called him the singer of the revolution," Mr Ibrahim says. "There are many heroes, he is one of them because he suffered."
Despite Mr Essam's frustration with the pace of change, the student engineer-turned-revolutionary is still optimistic about the future of his country.
"We're still here, we're still protesting and the revolution is still happening. So because people are still demanding change there's always hope."
"The situation will never be as bad as it was before. It will always be better because Egyptians have learnt how to say no."
Related Internet Links
The BBC is not responsible for the content of external sites.