Israelis stage mass protests over rising living costs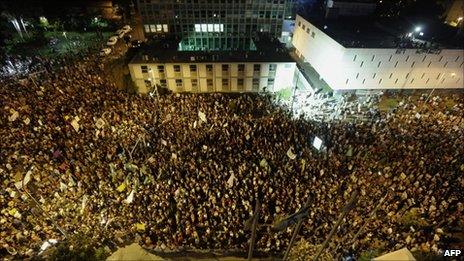 At least a quarter of a million Israelis have staged marches over the rising cost of living.
The largest protest was in Tel Aviv where police said at least 200,000 people were on the streets, while another 30,000 marched in Jerusalem.
In one of biggest waves of protests in decades in Israel, demonstrators are demanding government action to reduce the cost of housing and food.
Some protesters have also set up camp in city centres.
Police spokesman Micky Rosenfeld that as well as Tel Aviv and Jerusalem, an estimated 20,000 people had taken part in protests in other towns and cities.
"Our numbers are more than 250,000 people across the country," he told AFP news agency.
Israeli media put the number of protesters closer to 300,000.
It was the third Saturday of protests in a row.
The BBC's Wyre Davies in Jerusalem says most of those taking part were middle-class professionals who say their salaries cannot cover basic expenses including housing and childcare.
The protesters have been inspired by social uprisings in the Middle East but instead of seeking political change are demanding that the government take action over the soaring cost of living, he adds.
"It's hard to live in this country," said 26-year-old student Ehud Rotem, who joined the Jerusalem protest.
He told AP news agency that Israelis perform their mandatory military service, work and pay high taxes but "still don't earn enough to finish the month".
Another 45-year-old Tel Aviv resident said the situation was "impossible".
"We work so hard and we cannot afford a quiet life, we always have to struggle."
One of the organisers, 33-year-old Baroch Oren, said the movement was "a revolution".
"There has been nothing like this for decades - all these people coming together, taking to the streets, demanding change."
Israel's annual economic growth is relatively healthy, averaging 4.5% since 2004, and in the same period unemployment has fallen from about 11% to 6%.
But the public say this growth has failed to benefit them and there is growing public anger over perceived social inequality, injustice and official corruption.
Prime Minister Benjamin Netanyahu has promised to reassess his priorities and make housing more affordable.
Mr Netanyahu's spokesman, Mark Regev, told the BBC's Newshour programme that the government was aware it had to act to bring down prices of housing and consumer products.
"we are hopeful that this current wave of demonstrations will help us get through the parliament the sort of legislation and things we require to bring down prices," he said.
He said a team of ministers, academic experts and business people would be appointed on Sunday to meet in "a round table type situation".
He added that Mr Netanyahu was prepared to meet protesters.