Hezbollah suspects to be tried over Rafik Hariri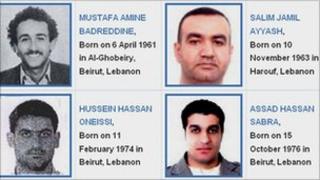 A UN-backed tribunal has published charges against four suspects in the assassination of former Lebanese Prime Minister Rafik Hariri.
The four, all connected to Hezbollah, were linked to the 2005 killing by circumstantial evidence from phone records, an indictment says.
Lebanon has not been able to arrest the men, who will be tried in absentia.
Hezbollah leader Hassan Nasrallah says the indictment contains "no direct evidence", Reuters reports.
Mr Hariri and 21 others were killed in February 2005 in central Beirut.
The tribunal released the suspects' names, photos and other biographical information last month.
'Reliable' evidence
The tribunal's 47-page indictment alleges that Mustafa Badreddine, a high-ranking figure in the Lebanese Shia movement Hezbollah, was the overall director of the operation.
Salim Ayyash, another senior Hezbollah official, is alleged to have co-ordinated the attack on the ground.
The other two suspects are accused of complicity and of trying to sow a false trail by producing a video tape with a fake claim of responsibility.
Hariri died when 2,500kg (5,510lbs) of explosives packed into a Mitsubishi van hit his convoy on the Beirut waterfront.
The indictment identifies five phone networks allegedly used to plot the assassination. It says they show surveillance of Hariri on at least 15 days before he was killed.
The "red network" used by the assassination team went dead two minutes before the killing, according to the indictment.
"The case against the accused is built in large part on circumstantial evidence," the indictment says.
But it also says such circumstantial evidence "is often more reliable than direct evidence, which can suffer from first-hand memory loss or eyewitness distortion".
The accusations over the killing, which have been anticipated for more than a year, have been a major embarrassment to Hezbollah which sees itself as the standard bearer of resistance to Israel, the BBC's Jim Muir reports from Beirut.
It has vehemently denied any involvement and dismissed the UN-backed tribunal as a tool of a Western and Israeli plot to discredit it.
Appeal to Hezbollah
Hariri's assassination plunged Lebanon into a series of political crises, killings and bombings that led to sectarian clashes in 2008, dragging the country to the brink of civil war.
The UN-backed tribunal's chief prosecutor, Daniel Bellemare, said publication of the indictment would "finally inform the public and the victims about the facts alleged in the indictment".
"The full story will, however, only unfold in the courtroom, where an open, public, fair and transparent trial will render a final verdict," he said.
Former Prime Minister Saad Hariri, Rafik Hariri's son, called on Wednesday for Mr Nasrallah to hand over the suspects for trial.
"What the Hezbollah leadership is asked to do is simply to declare cutting links between it and the accused," said a statement from his office.
"This will be a historic stance that all Arabs and Lebanese will remember."