Kuwait profile - Media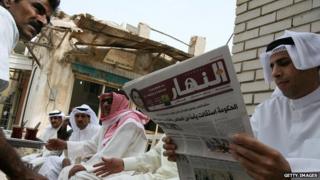 Kuwaiti journalists exercise restraint when covering matters relating to the emir and senior royals.
A press law forbids references to God and the Muslim prophet, Mohammed, that are deemed insulting. Criticism of the emir, the constitution, the judiciary and the "basic convictions of the nation" is prohibited. Courts can prescribe prison sentences for defamation and "attacks" on religion.
State-owned TV and radio operate alongside private broadcasters. Pan-Arab satellite stations are widely watched.
The press is characterised by its relative independence and openness, but newspaper publishers must have licences from the Ministry of Information. The ministry censors books, films, periodicals and other imported publications deemed morally offensive.
BBC World Service is available on FM in Kuwait City (in Arabic on 90.1, English on 100.1).
Kuwaitis are among the most digitally connected people in the region. There were three million internet users by 2014 (internetlivestats.com).
With just under two million people using social media daily, around 90% of them are doing this via smartphones.
A pervasive filtering system blocks content deemed immoral or politically sensitive.
The authorities actively pursue those who publicly criticize the emir. Several Twitter users have received prison sentences for their comments.
The press
Al-Watan - private, daily
Al-Qabas - private, daily
Al-Rai al-Amm - private, daily
Kuwait Times - English-language
Arab Times - English-language
Al-Anba - private, daily
Al-Jarida - private, daily
Al-Nahar - private, daily
Television
Kuwaiti TV - state-run, operates four networks and satellite channel
Al-Rai - first private TV, via satellite
Al-Sabah - private
Al-Watan - private
Al-Resalah - private, religious
Al-Sabah - private
Al-Adalah TV - private
Radio
Radio Kuwait - state-run, programmes in English and Arabic
Marina FM - first private radio station, music-based
U FM - private, for Indian community, in English, Malayalam and Hindi
News agency
Kuwait News Agency (Kuna) - in Arabic and English