Gilad Shalit: Parents' birthday wish for Israel soldier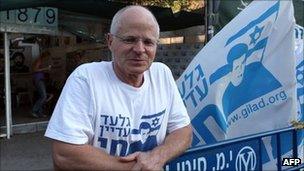 The parents of captured Israeli soldier Gilad Shalit have written him a letter to mark his 25th birthday, as activists call for a rally to demand his freedom.
"We're here. We haven't given up," says the letter, published by Ynet News two days before his birthday on Sunday.
Gilad Shalit was 19 when he was abducted in June 2006 by three armed Palestinian groups, including Hamas.
Hamas, which governs Gaza, wants hundreds of Palestinian detainees freed from Israeli jails in exchange for him.
It is thought that there are more than 5,000 Palestinians in Israeli prisons, including some 200 who are under 18 years old.
Indirect talks between Israel and Hamas have failed to produce a deal, despite reports of fresh contacts earlier this year.
"You must believe that we do not forget you," wrote Noam and Aviva Shalit, parents of the soldier, who have manned a protest tent outside the residence of Israeli Prime Minister Benjamin Netanyahu in Jerusalem for over a year.
"We do not forget the fact that next Sunday you will be 25 years old, that this is your sixth birthday in captivity, that more than a fifth of your young life has been spent in a dungeon, a Hamas pit."
Sgt Shalit was captured by Palestinian militants in a cross-border raid into Israel in 2006 and taken to a secret location in Gaza, where he has been held incommunicado ever since.
The last sign of life was in October 2009, when Hamas released a video of him calling on Mr Netanyahu to do everything to free him.
In June, the Red Cross called on Hamas to provide proof that the soldier was still alive.
Israeli activists say they will hold a march on Sunday evening at the Erez border crossing calling for his release. They have dubbed the event "Not a happy birthday".
Indirect talks - being mediated by Egypt and Germany - have centred on a prisoner exchange that would see hundreds of Palestinians freed from Israeli jails.
Mr Netanyahu has rejected the demand unless some of the worst offenders - including 450 with Israeli "blood on their hands" - are exiled. Hamas has rejected this condition.
Some of the 5,000 Palestinian prisoners have been tried and convicted of serious crimes such as murder in the Israeli courts, but others are being held without charge.
Related Internet Links
The BBC is not responsible for the content of external sites.