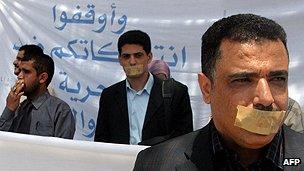 Yemen's media have been polarised since the power struggle that erupted into open warfare in 2015.
TV and radio dominate the media scene. The press, once among the liveliest and most outspoken in the region, has suffered more than other types of media from the effects of conflict.
Many publications have folded, or suspended their print editions. The English-language press has all but disappeared.
State TV is caught in a tug-of-war between the rebel Houthi movement and the Hadi government.
Each side operates its own version of the two main channels, Yemen TV and Aden TV.
Private satellite TVs operate from inside Yemen or from abroad, depending on the political climate and their relations with those in power.
Journalists work in very difficult circumstances. Reporters Without Borders says reporters have been killed in air raids by the Saudi-led military coalition fighting the Houthis. Other journalists have disappeared; many of them are believed to be detained by the Houthis.
By 2017 there were 6.9 million internet users (InternetWorldStats). The sole ISP is state-run and the internet has been prone to shut down by the Houthi-controlled communications ministry. Anti-Houthi online content is filtered. .
Al-Thawrah - (The Revolution), government-owned daily, under Houthi control
Al-Yaman al-Yawm (Yemen Today) - associated with family of late ex-President Saleh
Sada al-Masirah - Houthi newspaper