Bahrain unrest: Teenager dies after protest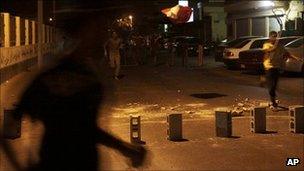 A teenage boy has died after being hit by a tear-gas canister fired by Bahraini security forces trying to disperse a protest, activists say.
Ali Jawad Ahmed, 14, was among a small crowd who had gathered overnight in the village of Sitra, said the Bahrain Youth Society for Human Rights.
The group said security forces personnel had used "excessive force".
The authorities say an initial investigation suggests the security forces were not involved in the death.
More than 30 people have been killed in Bahrain since protests began in February, with the island's Shia majority demanding political, social and economic reforms from the Sunni royal family.
Small-scale clashes between security forces and demonstrators have become a near nightly event since emergency rule was lifted in June.
Isa Hassan, the teenager's uncle, said police officers had overreacted when confronted by a small group of protesters in the village of Sitra, after prayers to mark the first day of the Shia Eid celebrations.
He said the tear gas canister was fired from about 7m (21ft) away, directly at the crowd.
"They are supposed to lob the canisters of gas, not shoot them at people," he said at the funeral, according to the Associated Press. "Police used it as a weapon."
One activist told the BBC that Ali Jawad Ahmed was hit in the face by the canister. He was taken to a local clinic, where he was pronounced dead.
The Bahrain Youth Society for Human Rights published a photograph showing the boy with blood seeping from his mouth.
A police official quoted by the state news agency, BNA, said there was no reported police action in Sitra at the time.
The Bahraini under-secretary for human rights, Saeed Mohamed al-Fayhani, told the BBC that the boy's death was "not related to any contact between the police and demonstrators".
"The report that I saw is is that he was hit from behind on his neck and that was the reason for his death," Mr Fayhani said.
He said a fuller inquiry was now under way.
Related Internet Links
The BBC is not responsible for the content of external sites.