Syria unrest: Protesters call for international help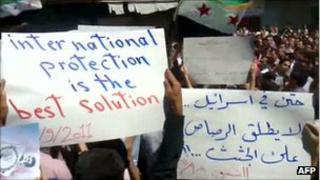 Syrian protesters have taken to the streets in their thousands following Friday prayers, calling for international protection from the security forces.
Some called for international observers to be sent in a monitoring role.
According to the UN, more than 2,200 people have been killed in Syria since anti-government protests began more than five months ago.
The government says hundreds of its personnel have been killed.
Foreign reporters are not being allowed in to Syria so news organisations are largely dependent on unverified amateur video and reports by rights groups.
Protest organisers - who try to give each week's demonstrations a common theme - this Friday called for greater international protection, says the BBC's Owen Bennett Jones, in Beirut in neighbouring Lebanon.
"We want international protection!" protesters shouted in cities across the country, the AP news agency reported.
A message posted on the "Syrian Revolution 2011" Facebook page called on the UN to set up a permanent observer mission in Syria.
Allies' criticism
Protests of thousands and tens of thousands were reported on Friday around Syria, including in the Kurdish north-east, in the south near Jordan, in Idlib near the Turkish border, Homs, Hama and the Damascus suburbs.
Activists said that security forces broke up the protests by firing guns and tear gas.
A 15-year-old boy was shot dead by troops manning a checkpoint in the north-western village of al-Rama, and security forces fired on protesters in another village in the area, the Syrian Observatory for Human Rights was quoted as saying.
Deaths were also reported elsewhere, but the toll was not immediately clear.
Although there seems very little prospect of foreign powers deploying peacekeepers or human rights monitors in Syria, even the country's allies are becoming more sharply critical, our correspondent says.
Iran's President Mahmoud Ahmedinejad has urged dialogue, saying a military crackdown "is never the right solution".
"He who bases his power on bloodshed will end up leaving in a trail of blood," Turkish Prime Minister Tayyip Erdogan warned on Thursday.
Russian President Dmitry Medvedev said Syria had used "disproportionate force" against protesters, though he also called some of them "terrorists".
The Syrian government says that it is facing armed terrorist groups who are killing security personnel.
Earlier, Syria's official news agency reported that 11 soldiers killed by armed groups were buried in various cities throughout the country.
They included two colonels who were laid to rest wrapped in Syrian flags.
The news agency also reported the alleged confessions of two men who reportedly said they had tried to plant a bomb in a roadside rubbish container in the coastal city of Latakia.
'Beating the wounded'
Homs has seen some of the largest protests of the uprising against the rule of President Assad. During the past week alone, as many as 29 people were killed in confrontations with the security services.
According to New York-based Human Rights Watch (HRW), Syrian security forces have also been forcibly removing patients from a hospital in the city and preventing doctors from reaching the wounded.
"When we tried to help the wounded who needed urgent medical care, the security forces pushed us back, saying these were criminals and rapists," one doctor told HRW.
"They were beating the wounded as they moved them out of the hospital."
The international community has urged the Syrian president to stop targeting civilians.
The government insists that it has a political reform programme in place, but opposition leaders say there can be no free and fair elections while the ruling Baath party is in power.