Lawyer optimism for Iranian death-row Christian cleric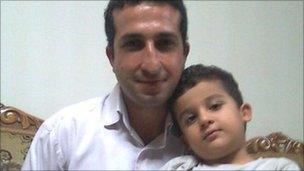 The lawyer for an Iranian Christian cleric sentenced to death for apostasy says he is optimistic that his client will be acquitted.
The lawyer, Mohammad Ali Dadkhah, said there was a 95% chance Yusuf Naderkhani would be freed.
Iran's Supreme Court has said that Naderkhani's sentence may be annulled if he renounces Christianity. His lawyer says that he refuses to do so.
There have been international appeals for clemency for Naderkhani.
Now in his early 30s, he converted to Christianity at the age of 19. He was arrested in 2009 and sentenced to death the following year by a court of appeals.
The former Anglican Bishop of Rochester, the Right Reverend Michael Nazir-Ali, said he could not advise Naderkhani to recant.
"As a Christian I can't do that," he told BBC Radio 4's PM programme.
"In a much lesser way I have faced these questions myself, and I would ask for myself for strength in this situation and courage, and that is what I would ask for him.
"But at the same time to ask that understanding and compassion and clemency be exercised by those who are in authority."
Dr Nazir-Ali, who is working for the UK charity Release, said there was concern in Iran about the growth of house churches, and it "may be that someone is seeking to make an example".
He said it was the first time the death penalty had been handed down in such a case since 1990.