Police in Tunisia use tear gas on Islamist protesters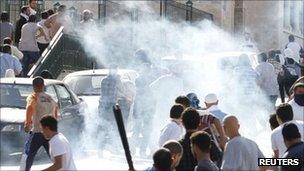 Police in Tunisia have fired tear gas at hundreds of Islamists demonstrating in the capital Tunis.
The rallies were against a private TV station which has angered Islamists by screening the animated film Persepolis, which critics says is blasphemous for including an image of God.
The owner of Nessma TV, Nabil Karoui, said Islamists had attacked his house and tried to burn it down.
Tunisia goes to the polls next week to vote for a constitutional assembly.
They will be the first polls in Tunisia since long-time President Zine el-Abidine Ben Ali was overthrown in an uprising in January - a move that inspired popular uprisings in several Arab countries.
Correspondents say that with the autocratic government of Ben Ali gone, more conservative Muslims are making themselves heard.
The demonstrators - mainly conservative Salafist Muslims - were protesting against the Nessma TV station for the second time in a week.
They were angered by fantasy scenes in the film, Persepolis, in which God is shown talking to a young girl.
The film is about the 1979 revolution in Iran.
Mr Karoui apologised on Tuesday for broadcasting the film, but many mosque preachers devoted their Friday sermons to the issue.
The protest started peacefully at a central Tunis mosque after Friday prayers, with hundreds of people shouting "Allahu Akbar" or "God is greatest" and demanding the imposition of Islamic law in Tunisia.
When the crowd approached the Casbah district of the centre of Tunis, where the caretaker Prime Minister Beji Caid Sebsi has his office, some groups tried to break through police lines, a Reuters reporter at the scene said.
Riot police fired tear gas and moved in with their batons to try to disperse the crowd. The protesters responded by throwing stones at police.
Police pursued several demonstrators who took refuge in a local mosque, an AFP journalist said.
After about half an hour, most of the crowd dispersed leaving only a few hundred young men who were still throwing objects at police.
However, later on Friday, Mr Karoui said a group of about 100 Islamists attacked his home.
"Nearly a hundred people, Salafists, attacked my house with tear gas bombs," he told Reuters. "They tried to set fire to the house... They smashed everything up."
A presenter on Nessma TV said the demonstrators threw petrol bombs, adding that the family had only just been saved.
Witnesses told Reuters there were separate protests by Islamists in several locations around the capital.
One protester said: "Here in Tunisia, you can insult Allah but you cannot insult Sebsi or the government... and if you do, you pay dearly. That's not right".