Syria unrest: Aleppo sees huge pro-Assad rally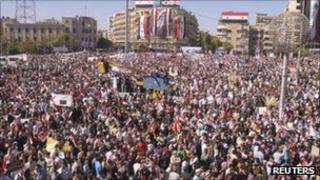 Thousands of people have staged a rally in Syria's second largest city, in an apparent show of support for embattled President Bashar al-Assad.
People in the northern city of Aleppo waved national flags, saying they backed Mr Assad's pledged reforms.
The demonstration comes as at least 24 people were killed in clashes in across Syria, reports say.
About 3,000 people have been killed across Syria since anti-government protests began in March, the UN says.
Damascus says it is tackling "armed terrorist groups".
'Civilians shot'
On Wednesday, Syrian state TV broadcast pictures of the large gathering in Aleppo.
It showed demonstrators with Syrian national flags and Assad pictures chanting in the city's main square.
"We love you," sang the demonstrators, some of whom also held Russian and Chinese flags - a reference to Moscow and Beijing's recent veto of a UN draft resolution which could have led to sanctions against Damascus.
The rally came a week after a similar demonstration in the capital.
The Syrian opposition says that such gatherings are orchestrated and sponsored by the government - a claim denied by Damascus.
Meanwhile, at least 24 people were killed across Syria on Wednesday, the Syrian Observatory for Human Rights said.
The British-based human rights group said most of the victims were civilians shot dead by Syrian security services and pro-government militia in the flashpoint central province of Homs and also around the town of Qusayr near the Lebanese border.
It said the death toll included seven government soldiers killed in clashes with suspected army deserters.
The reports could not be independently verified, as Syria has banned most foreign media from entering the country.