Syria 'using hospitals for torture' - Amnesty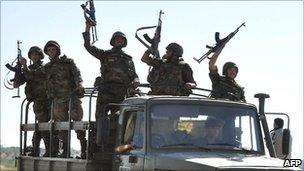 The 39-page report claims patients in at least four state hospitals have been subjected to torture and other ill-treatment, including by medical staff.
Many injured civilians consider it safer not going to hospital, it says.
Syrian authorities have denied torturing opponents of the government.
Anti-government protests, which first broke out in March, have continued despite President Bashar al-Assad's attempts to stifle them.
The UN says more than 3,000 people have died in seven months of unrest, which Syria has blamed on "terrorists" and "armed gangs".
International journalists face severe restrictions on reporting in Syria, and it is hard to verify reports.
Amnesty's Middle East and North Africa researcher Cilina Nasser said Syrian authorities appeared to have "given security forces a free rein in hospitals".
"In many cases hospital staff appear to have taken part in torture and ill treatment of the very people they are supposed to care for," she said in a statement.
"Given the scale and seriousness of the injuries being sustained by people across the country, it is disturbing to find that many consider it safer to risk not having major wounds treated rather than going to proper medical facilities."
The human rights group documented cases where patients had been removed from hospitals.
In September, the report says, security forces raided a hospital in Homs, looking for an alleged armed field commander opposed to the government.
When they failed to find him, they arrested 18 wounded people, Amnesty says. One staff member said he saw at least one unconscious patient have his ventilator removed before he was taken away.
One medic who had worked a private hospital in Homs told Amnesty that hospitals suffered a "dilemma" over patients who needed blood, because the blood bank was under the control of the defence ministry.
"We faced a dilemma every time we received a patient with a firearm injury and an urgent need of blood: if we send a request to the Central Blood Bank, the security would know about him and we would be putting him at risk or arrest and torture, and possibly death in custody," he told Amnesty.
Amnesty said there was information to suggest patients had suffered abuse in the national hospitals of Baniyas, Homs and Tell Kalakh, and the military hospital in Homs.
Ahmad, a doctor from Homs, said he had seen many patients disappear from the hospital he had worked in.
He told the BBC he had alerted the hospital manager after seeing a 14-year-old, who was brought in with bullet wounds, being beaten up by a nurse.
He was later requested to visit the security building, after the nurse told officials he was part of an Islamic organisation. He did not go, he said, instead choosing to leave Syria.
Other doctors have also complained of attacks or raids on hospitals during the uprising.
Mr Assad, who refuses to quit, has promised some reforms, but his critics say they will not be implemented and that, in any case, they do not go far enough.
On Sunday, state media said Mr Assad had named new governors for the northwestern province of Idlib and for the Damascus governorate, both of which have seen mass demonstrations in recent months.
Hussein Makhlouf was assigned as the new governor of rural Damascus, while Yasser Shoufi was named governor of Idlib, according to Sana news agency.
Earlier, the US said it was pulling out its ambassador, Robert Ford, after he received what a US spokesman called "credible threats against his personal safety".
Related Internet Links
The BBC is not responsible for the content of external sites.