Iranian minister Hosseini survives impeachment vote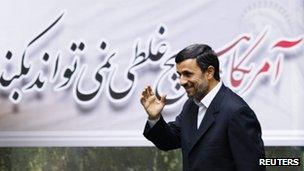 Iranian Economy Minister Shamseddin Hosseini has survived an impeachment vote linked to a major banking scandal.
Mr Hosseini had been accused of failing to take action over an alleged fraud worth $2.6bn (£1.6bn).
The vote came amid a power struggle between Iranian President Mahmoud Ahmadinejad and Iran's ruling hierarchy of clerics.
Mr Ahmadinejad's allies have accused conservative hardliners of trying to use the alleged fraud to discredit him.
Of 244 parliamentarians present, 141 voted to retain Mr Hosseini and 93 voted against, while 10 abstained.
The parliament speaker, Ali Larijani, said an apology by Mr Hosseini and his pledge to work to prevent future fraud won him the support of lawmakers.
Meanwhile, the office of Tehran mayor Mohammad-Baqer Qalibaf confirmed that it had launched legal proceedings against the British embassy, accusing it of destroying as many as 300 trees on embassy grounds.
The British embassy has denied the charge, saying in a statement that 31 trees had died because work on Tehran's underground had cut off water supplies to the compound.
"The embassy takes its environmental responsibilities for both its compounds extremely seriously," it said.
Correspondents say Mr Qalibaf appears to be using the case to boost his profile ahead of an expected presidential bid in 2013.