Israel boards protest boats taking medical aid to Gaza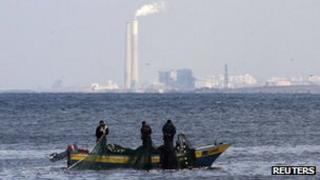 The Israeli navy has intercepted and boarded two boats which were trying to break the blockade of the Gaza Strip.
The Canadian and Irish boats with 27 activists from the US and eight other countries on board had set sail from Turkey on Wednesday.
They were carrying medical supplies for the coastal enclave.
The navy said no-one was hurt in the operation and the boats would be towed to the Israeli port of Ashdod, north-east of Gaza.
The Irish Saoirse (Gaelic for freedom) and the Canadian Tahrir (Arabic for liberation) were about 50 nautical miles from the Gaza shoreline when they were contacted by the Israeli navy and told to turn back, the flotilla organisers told the AFP news agency.
The navy said it "advised the vessels that they may turn back at any point, thereby not breaking the maritime security blockade" or could sail to Ashdod or an Egyptian port.
"The activists refused to co-operate," AFP quoted the navy as saying.
'Safety ensured'
The navy ships then approached the boats and boarded them before towing them towards Ashdod.
"The Israel Navy soldiers operated as planned, and took every precaution necessary to ensure the safety of the activists onboard the vessels as well as themselves," said the navy.
Israeli police spokesman Micky Rosenfeld said the activists would be questioned by police and immigration officials, then returned to their home countries, the Associated Press reports.
Denis Kosseim, a spokesman for the flotilla based in Montreal, earlier told AFP that all those on board had signed an agreement not to put up any resistance if they were boarded.
The US had urged the activists not to try to break the blockade. US officials also said Turkey had given assurances it would not send warships to escort the flotilla.
Ankara had previously threatened to use its navy to escort boats carrying activists and supplies to Gaza.
Relations between Turkey and Israel reached a crisis 18 months ago, when nine Turkish activists were killed in an Israeli raid on a far larger flotilla as it approached Gaza.
Israel tightened its blockade on Gaza in 2006. It aims to stop the supply of arms or other items for military use and to put pressure on the Hamas administration in the strip. Israel also controls air and sea access to the territory.
The importing of all weapons and military materials is banned, along with dual use materials such as fertilisers and certain chemicals.
There are also strict controls on building materials such as cement and steel cables.
All exports are banned, though this ruling is occasionally lifted.
Fishermen may only operate in a strip of water up to three nautical miles from the shore.
Egypt, which used to help maintain the blockade by closing its border with Gaza, now allows the restricted movement of people.
However, many types of goods are smuggled though tunnels under the Egypt-Gaza border.