Iraq deadly blasts hit Baghdad market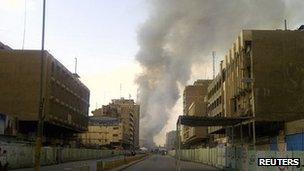 At least eight people have been killed by a series of blasts at a market in the Iraqi capital Baghdad, say reports.
Three explosions went off in the commercial district of Shurja, as people were buying food for the major Muslim festival of Eid al-Adha.
At least 21 people were injured in the attack, police told the Associated Press news agency.
Overall violence in Iraq has declined since a peak in 2006 and 2007, but attacks on civilians remain common.
The latest explosions came despite the extra security measures put in place across Iraq for the Eid holiday.
The bombs are believed to have been planted throughout the sprawling Shurja market, one of the oldest and best-known markets in Iraq.
"I can see fire and black smoke mounting and a large number of fire engines, ambulances and police patrols rushing to the market," one witness told Reuters.
Interior and defence ministry officials said parts of the historic market had been set on fire, the AFP news agency reports.
Baghdad has seen a resurgence in militant violence in recent months, as the last US troops in the country prepare to leave by the end of the year.
Official figures says 258 people were killed in violence nationwide in October.
The increase has raised concerns that the violence might increase even more once the US military hands over security responsibilities to the Iraqis.