Niger's army 'blocks Libya to Mali' convoy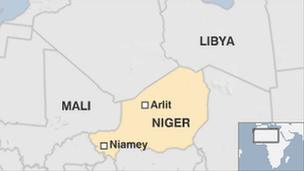 Niger's military has clashed with a heavily armed convoy travelling though the desert from Libya towards Mali, security sources say.
Thirteen members of the group were killed and some of them captured in the fighting on Sunday, the sources said.
A government statement confirmed the clashes, but did not say where the convoy came from or who was in it.
Fighters of the ousted Libyan regime, ethnic Tuareg rebels and Islamist militants operate in the remote region.
Some Tuaregs fought on the side of the late Libyan leader Col Muammar Gaddafi during this year's conflict in Libya.
Serge Hilpron, the head of Radio Nomad, a broadcaster in northern Niger, told the AP news agency that his sources indicated that both Libyan nationals and Tuaregs were in the convoy.
"Because of the Libyan problem, there are now traffickers heading to Libya to pick up the arms left behind and to bring them here. These same traffickers then sell the arms to AQIM [al-Qaeda in the Islamic Maghreb]," he is quoted as saying.
A Nigerien army officer said he understood the convoy was made up of pro-Gaddafi fighters "guided by Malian Tuaregs", the Reuters news agency reports.
Government spokesman Usman Toudo told the BBC that a second convoy was intercepted on Tuesday night, but he did not give further details.
An official statement said Sunday's clashes took place in the Arlit area and the security forces had seized a huge weapons cache.
This included rockets, assault rifles and machine guns, it said.
One soldier was killed and four wounded in the fighting, the statement said.
Security sources told Reuters and France's RFI radio that 13 of the attackers were killed and another 13 taken as prisoners.
Reports from last month claimed a son of Col Gaddafi, Saif al-Islam, was in a convoy heading towards Libya's desert border with Niger, but the reports were never confirmed.
In September, Niger's government said another son of Col Gaddafi, Saadi, had crossed into Niger and had been given refuge in the capital, Niamey.
Last month, the National Movement for the Liberation of the Azawad rebel group - made up of Tuaregs - emerged in Mali. It said it would absorb Tuareg fighters returning from Libya.
Col Gaddafi was a strong backer of Tuaregs in Niger and Mali, who claim they are marginalised by the governments of the two countries.
Security experts believe AQIM - which attacks and kidnaps foreigners across the region - is also exploiting the instability in Libya by acquiring weapons from there.
They say Libya turned into an "arms bazaar" during the eight-month conflict. Both sides involved in the fighting raided government-owned arms depots.
The US has promised to help Libya's new authorities to recover missing weapons, including surface-to-air missiles.
Related Internet Links
The BBC is not responsible for the content of external sites.