Iran explosion at Revolutionary Guards military base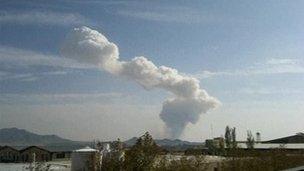 Seventeen soldiers have been killed in an explosion at a military base near Iran's capital Tehran, officials say.
The blast occurred when weapons were being moved inside a Revolutionary Guards depot, a spokesman for the elite unit told state TV.
Windows in nearby buildings were shattered and the blast was heard in central Tehran, 40 km (25 miles) away.
Two hours after the explosion a fire still raged and there were traffic jams on nearby roads, a local reporter said.
The death toll was revised down from an earlier figure released by the Revolutionary Guards of 27.
Local MP Hossein Garousi said "a large part of an ammunition depot exploded," parliament's website reported.
Revolutionary Guards spokesman Ramezan Sharif did not say what had caused the "accident" in the village of Bidganeh, near the city of Karaj.
"Some of the casualties are reported to be in a critical condition," he said.
An emergency worker said that 12 people had been taken to hospital.
Karaj resident Kaveer told the BBC's Newshour programme that the sound was "deafening".
"We were kind of shocked. I just ran out of the house and looked around," he said.
An elite military force, the Revolutionary Guard was set up shortly after the 1979 Iranian revolution to defend the country's Islamic system.
It has since become a major military, political and economic force in Iran.
The Revolutionary Guard has been targeted by UN sanctions aimed at pressuring Iran to halt uranium enrichment.
There have been occasional unexplained explosions in Iran before.
Eighteen people were killed in a blast at a Revolutionary Guards base in the north-western Lorestan province in October 2010.
The latest blast comes at a time of heightened tensions over Iran's nuclear ambitions.
The UN's nuclear watchdog the IAEA released a report on Tuesday which, correspondents say, prompted new fears that Iran's nuclear programme has a military objective.
There has also been speculation in Israel's media that Prime Minister Benjamin Netanyahu is considering ordering strikes against Iran's nuclear sites, in the hope of stalling or ending its programme.
Iran says its nuclear programme has purely civilian aims.