Bahrain breaks up terror cell - state media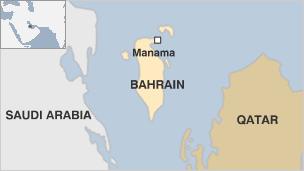 Bahrain says it has broken up a group which was planning to carry out attacks in the Gulf kingdom.
Four members of the group were held in neighbouring Qatar and one in Bahrain, the state-run BNA news agency said.
The group had reportedly planned to target the interior ministry building in the capital Manama, the Saudi embassy and also the causeway linking the island with Saudi Arabia.
The names and nationalities of the suspects have not been released.
The arrests in Qatar were made after the four suspects had entered the country from Saudi Arabia, BNA quoted the Bahraini interior ministry as saying on Saturday.
It said the suspects had large sums of money, documents and also a computer with details of "vital establishments in Bahrain".
The four alleged members of the cell also provided vital information about the fifth suspect, who was arrested later in Bahrain, it said.
Related Internet Links
The BBC is not responsible for the content of external sites.