Pitfalls ahead despite Saleh quitting power in Yemen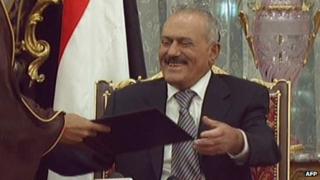 Yemen's president, Ali Abdullah Saleh, has signed an agreement to initiate a transition of power, after 33 years in the job. The signing ceremony took place in Riyadh, the capital of Saudi Arabia, on Wednesday.
The deal empowers Mr Saleh's deputy, Vice-President Abdrabuh Mansur Hadi, to oversee the immediate next steps but Mr Saleh will remain as a figurehead president for another 90 days.
The deal follows months of negotiations to secure a managed transition of power, under the stewardship of the Gulf Co-operation Council. Mr Saleh has back-tracked, side-stepped and repeatedly disappointed previous efforts to ease him out of office.
However, Wednesday's breakthrough comes a month after the United Nations Security Council passed Resolution 2014, condemning the excessive use of force against peaceful protesters and demanding Mr Saleh's compliance with the Gulf states' proposal for a transition of power. The UN Security Council also called for a progress report within 30 days.
The UN Secretary General's special adviser on Yemen, Jamal Benomar, has spent the last two weeks in the country, talking to all sides. Mr Benomar was due to brief the UN Security Council on 21 November, in accordance with the progress report deadline.
When a political deal appeared imminent, Mr Benomar stayed on to help negotiate the final details of the agreement, building on the efforts of Western diplomats based in Sanaa. "Mr Benomar has proved adept at mediation and he can take quite a lot of credit for this success," said one Western official who has followed the transition talks closely.
Lack of trust
Under the terms of the deal, Mr Hadi will form a power-sharing government and the opposition coalition will nominate a prime minister. Mr Hadi will also head a temporary security council and attempt to negotiate the demilitarisation of the capital, Sanaa, which is currently under the control of rival military factions.
Mr Saleh is required to relinquish full control in early February, 90 days after signing the deal, and Mr Hadi will be elected president, as a consensus candidate agreed by all sides. Mr Hadi will then oversee national dialogue to consider proposals for constitutional reform, such as proportional representation, replacing the presidential system with two chambers of parliament and multi-party federalism. He will also steward talks to restructure the military.
Despite high hopes for the peaceful implementation of Wednesday's transition deal, there are still multiple opportunities for the process to be derailed by spoilers. Even if Mr Saleh opts to remain in Riyadh after Wednesday's signing ceremony, his son, Ahmed Ali, is unlikely to relinquish his command of the elite Republican Guard without significant regional and international pressure.
Meanwhile, Ahmed Ali's rivals - General Ali Mohsin and the Ahmar family - retain armed divisions controlling the northern and western suburbs of Sanaa. Clashes between Ahmed Ali and his rivals have claimed dozens of lives in recent months.
Yemenis will be watching to see how Ali Mohsin and the Ahmar brothers respond over the coming weeks, and whether the UN is also willing and able to target them for non-compliance with implementation of the transition agreement.
Even if Yemen's rival elite factions agree to lay down their arms, the lack of trust between politicians in the ruling party and the opposition coalition may also prove impossible to overcome. Yemen's current voter registration lists are out of date, and it seems unlikely that new lists will be compiled within 90 days, in time for Mr Hadi's scheduled election. Significant concessions will be required to appease the southern separatists, as well as Houthi rebels in the north.
Last but not least, Yemen's youth protesters - who first took to the streets in February calling for Mr Saleh to stand down - show no signs of leaving their sprawling encampment in Sanaa known as Change Square. Youth activists are angry that the transition deal includes an immunity guarantee for Mr Saleh and his allies. They also believe that too much control remains in the hands of established political actors, who they see as corrupt beneficiaries of the existing system of power.
Ginny Hill is an associate fellow at Chatham House, where she runs the Yemen Forum