Egypt military chief Tantawi warns over elections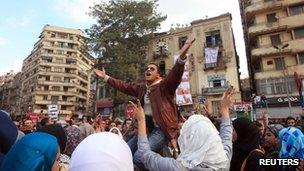 Egypt's army chief says he will not let "troublemakers" meddle in Monday's parliamentary elections, warning of "extremely grave" consequences if the country does not overcome its crisis.
Field Marshall Hussein Tantawi spoke as thousands of protesters again gathered for another rally.
He urged top presidential candidates Mohammed ElBaradei and Amr Moussa to back his nomination for Prime Minister.
Recent unrest, in which dozens have died, has cast a shadow over the polls.
Monday marks the first step of an election timetable which lasts until March 2012 and covers two houses of parliament.
Protesters fear the Supreme Council of the Armed Forces (Scaf) - which is headed by Field Marshall Tantawi and is overseeing the transition to democratic rule - is trying to retain power.
Mass demonstrations have been calling for military rule to end before parliamentary elections are held - although there also have been smaller gatherings expressing support for the country's interim military rulers.
Field Marshal Tantawi said the army would ensure security at the polling booths and reiterated that the vote would go ahead on schedule.
"We will not allow troublemakers to meddle in the elections," he said, in comments reported on the website of state-owned Al-Ahram newspaper.
"We are at a crossroads. There are only two routes, the success of elections leading Egypt towards safety or facing dangerous hurdles that we in the armed forces, as part of the Egyptian people, will not allow."
More than 40 people have been killed and some 2,000 wounded in the last week as the security forces tried to break up massive protests, leading to the worst violence since the fall of Hosni Mubarak.
Analysts say the vote is almost certain to proceed, but the voting procedure is complex and there has been little time for campaigning, so it is unclear how many people will cast ballots.
On Saturday, Field Marshall Tantawi held talks with leading political figures Mohamed ElBaradei and Amr Moussa to discuss the political crisis.
The BBC's Jon Leyne, in Cairo, says the man that the military council has nominated as PM, Kamal Ganzouri, has not gained traction or widespread support.
Aged 78, he looked every one of his years at a recent news conference and is seen as a Mubarak-era figure, our correspondent says.
But Mohamed ElBaradei - who has said he would be prepared to lead a national government until a president could be appointed - and Amr Moussa are powerful political figures who would challenge the power of the army, our correspondent says.
By naming Kamal Ganzouri as prime minister, Field Marshall Tantawi is clearly trying to head off that threat, our correspondent says.
One thing is clear, our correspondent adds: Egypt is a very, very divided country.