Britain's Tehran fortress falls to rising Iranian ire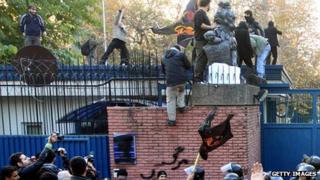 Britain's embassy in Tehran is one of the most forbidding buildings in Iran's capital. The compound stands out on one of Tehran's main avenues with its high walls, barriers and fortifications.
The fortress reflects the uneasy nature of UK-Iran relations. To some in Iran's establishment Britain is seen as the mastermind of all the evils that befall the Islamic Republic.
In recent days several events have coincided to raise the temperature between Britain and Iran.
On 22 November Britain cut off all ties with Iran's banks in response to report by the International Atomic Energy Agency (IAEA) into the possible military dimensions of Iran's nuclear programme.
On 27 November Iran's parliament voted to downgrade its diplomatic ties with the UK - in effect ordering the expulsion of Britain's newly appointed Ambassador Dominick Chilcott.
At the same time, the anniversary of the assassination of an Iranian nuclear scientist in Tehran approached.
Protesters announced they would hold a demonstration outside the British embassy on 29 November to mark the event. Iran says the West was responsible for Majid Shahriari's assassination - Britain says it had nothing to do with it.
Symbolic importance
The night before the protest, the Foreign Office took the unusual step of releasing a statement calling on the Iranian authorities to ensure that the British embassy was adequately protected.
But it was not. TV pictures show that protesters easily managed to breach the walls of the compound and police wearing riot gear did not manage to stop them.
It is not immediately clear whether or not the protesters were following orders or whether they decided to act alone. But the demonstrators' views on Britain coincide with those of many inside Iran's conservative establishment.
A group of demonstrators also stormed a separate British diplomatic compound in northern Tehran known locally as Qolhak Garden.
This 50-acre compound has plenty of symbolic importance for some conservative Iranians. They believe that Britain stole the grounds from Iran. One Iranian politician suggested some time ago that Britain could keep Qolhak Garden if Iran was given London's Hyde Park.
After hearing news of the first incursions, the Foreign Office in London tried to contact its staff inside the two compounds. One initial call lasted 10 seconds and was ended by the words: "We're being breached."
UK Foreign Secretary William Hague later said that all British staff and dependents in Tehran appeared to be accounted for.
On Wednesday, the Foreign Office said some of its staff were being evacuated for their own safety.
'Consequences'
For many, an incursion into a Western embassy in Tehran triggers memories of one event - the storming by Iranian students of the US embassy in 1979.
More than 50 US diplomats and staff were held for more than 400 days. The US and Iran have yet to overcome the legacy of this event - the two countries have not restored diplomatic relations.
The British government has called the incursions into its own diplomatic compounds outrageous and indefensible.
It warns that Iran will face serious consequences. What these consequences may be is not yet clear, but Britain will want to act alongside its partners in the EU.
In April 1997, all EU countries withdrew their ambassadors for seven months because Iranian intelligence agents had been found guilty of murdering four Iranian Kurds in Germany.
Mr Hague is due to meet his EU counterparts in Brussels on Thursday. Expect to hear more about the consequences then.