Amnesty urges US to stop sending tear gas to Egypt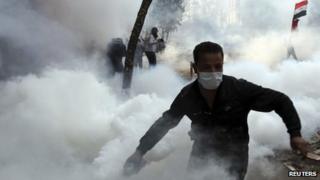 Amnesty International has called on the United States to stop the export of tear gas and other arms to the Egyptian security forces.
The human rights group says shipments have continued since clashes between protesters and authorities turned violent.
Hosni Mubarak stepped down as president in February after weeks of protests.
Last month saw further deadly clashes with demonstrators angry at the slow pace of reform.
Amnesty International has identified three deliveries of arms to Egypt by US company Combined Systems, Inc. since the crackdown began.
"US arms shipments to Egypt's security forces must be stopped until there is certainty that tear gas and other munitions, weaponry or other equipment aren't linked to bloodshed on Egyptian streets," said spokesman Brian Wood.
Questioned about American exports of tear gas on 1 December, a US State Department spokesman said the US "condemned the use of excessive force against protesters during the recent period of civil unrest in Cairo".
Allegations of the misuse of tear gas were taken very seriously, he added, and the situation was being carefully monitored.
Two US companies have licences to export tear gas and other non-lethal riot control agents to the Egyptian government, the State Department said. The most recent licence was granted in July this year.
The BBC's Jon Leyne in Cairo says that whenever tear gas is fired against protesters in Egypt, the demonstrators are quick to collect the empty canisters. They angrily complain that many of the canisters carry markings saying they were made in the US.