What next for Yemen after Saleh?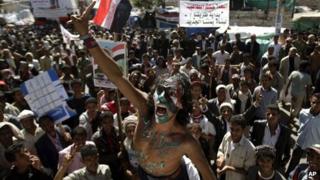 First, the good news. Yemen is to get a new "unity" government.
Key ministerial posts are to be allocated more or less equally between supporters and opponents of the outgoing President Ali Abdullah Saleh, who agreed last month to step down after 33 years in power.
After suffering its most painfully violent year since the civil war of 1994, there could, just possibly, be light at the end of the tunnel for the Arab world's poorest country.
Under a Gulf Arab initiative, launched by Yemen's nervous neighbours and backed by the UN, the new transitional government will rule for three months. Elections are then to be held, followed by a full handover of power from Mr Saleh to his vice-president.
That, at least is the plan, although many weary Yemenis have come to believe that Mr Saleh and his well-placed relatives have no real intention of relinquishing their grip on power.
On Wednesday, a whole two weeks after the president signed the handover deal in Riyadh, fighting broke out once more in the capital Sanaa between troops loyal to him and his tribal opponents.
There were reports of artillery exchanges, rocket-propelled grenades and machine-gun fire.
Elsewhere in this impoverished, partly mountainous country there are so many sources of conflict that the Arab Spring movement - which has brought thousands onto the street this year, demanding basic reforms like an end to corruption - has been all but eclipsed by the ongoing and deadly clashes.
There are at least three other flashpoints where fighting flares up intermittently, killing dozens and displacing thousands.
In the central city of Taiz, 120 miles (200km) south of the capital, government troops have reportedly been shooting at protesters.
"Officially", said a Yemeni official who asked not to be named, "the government says it is clashes with tribes but I'm afraid it is the troops doing the shooting."
In the northern province of Saada where a Shia community known as Houthis predominate, there have been clashes with fundamentalist Sunnis known as Salafis.
In the recent past the "Houthi rebellion" grew so intense that forces from neighbouring Saudi Arabia crossed the border and intervened on the side of the Yemeni government, with mixed results.
And in the southern provinces east of Aden government troops are skirmishing with a well-armed alliance of Islamist fighters broadly linked to al-Qaeda.
Checkpoints, gun positions and even whole villages have changed hands and back again with weapons as heavy as Katyusha rockets being deployed.
As if the government did not have enough on its hands, there is also a growing southern separatist movement - southerners convinced they would be better off without union with the north, and demanding a return to the status quo that existed before unification in 1990.
All of this risks masking the chronic problems facing Yemen regardless of who is in charge. Oil and water are both running out, food prices are soaring and so is unemployment.
Little wonder that Yemen's richer neighbours in the Gulf are urgently seeking to establish some kind of stability there before Yemen's problems become the whole region's problems.