Israeli air strike kills two Palestinians in Gaza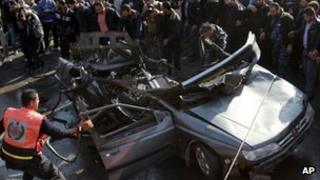 Two Palestinians have been killed and several others wounded in an Israeli air strike in Gaza.
The men were in a car near a crowded park when their vehicle was struck by a missile, turning it into a fireball.
Israeli and Palestinian sources say one of the men was in the military wing of the Fatah movement; the other was his nephew, who belonged to Hamas.
It was the second Israeli air strike on Gaza this week, following a period of relative calm.
Israel confirmed that it carried out the attack in Gaza City. Israeli military officials say one of the two men targeted belonged to the militant Al-Aqsa Martyrs Brigade.
A military spokesman said the man was plotting attacks against Israeli citizens and the security forces along the border between Egypt and Israel.
Israel says the other man was a militant who operated in the northern Gaza Strip.
The funerals of the two men have taken place in Gaza.
The militant group, Hamas, which controls the territory, condemned the air strike.
"It is a dangerous Israeli escalation and a new crime to be added to the Zionist enemy," said a Hamas spokesman, Fawzi Barhom.
"They are targeting the quiet and calm times in the Gaza Strip."
Earlier this week a member of the militant group, Islamic Jihad, was killed in an air strike on Gaza.
Israel said he had been planning to fire rockets into its territory.