Bomb blast injures UN peacekeepers in Lebanon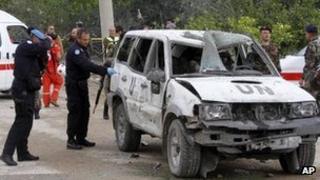 At least five French UN peacekeepers and a Lebanese civilian have been injured by a bomb blast southern Lebanon, security officials have said.
The bomb went off in the Bourj al-Shamali area, on the outskirts of the port city of Tyre, as a vehicle carrying the troops drove past.
A Unifil spokesman said it was investigating the incident in co-operation with the Lebanese army.
Lebanon's Prime Minister, Najib Mikati, immediately condemned the violence.
"Lebanon considers these attacks as targeting its own security and stability, not only Unifil," he said in a statement.
France's foreign minister said it was determined to continue its involvement with Unifil and would not be intimidated by such "vile acts".
Syria accused
The 4x4 carrying soldiers from the French contingent was passing on a main road that skirts the eastern side of Tyre when the bomb went off.
It was buried at the roadside and left a hole about 1m (3ft) deep.
The five soldiers mainly suffered head injuries.
The bombing was very similar to one that wounded six French troops in July at Sidon, a city further to the north. Six Italian peacekeepers were also hurt in a similar attack in Sidon two months earlier.
The BBC's Jim Muir in Beirut says no group has said it was behind the attacks, but Syria's local critics have been swift to point an accusing finger in its direction.
One pointed out that France was at the forefront of international pressure on Damascus over its crackdown on anti-government protesters, and that some kind of retaliation had been expected, our correspondent says.
However, attacks on Unifil have been taking place long before the uprising began in Syria in March, including one in 2007 in which seven Spanish peacekeepers were killed, he adds.
Our correspondent says much of south Lebanon is controlled behind the scenes by the militant Shia Islamist movement, Hezbollah, which is allied to Syria and fought a bloody war with Israel in 2006.
It has always denied any involvement in attacks on Unifil.
The 12,000-strong force has been deployed in southern Lebanon since 1978 to monitor the border with Israel.