Mahmoud Abbas raises Palestinian flag at Unesco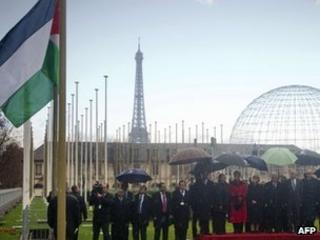 Palestinian Authority President Mahmoud Abbas has raised the Palestinian flag above a UN agency for the first time.
Mr Abbas said he hoped Unesco's admission of Palestine was the beginning of international recognition.
The Palestinians were admitted into the UN's cultural, education and science organisation in October, despite strong opposition from the US and Israel.
Washington reacted by suspending its funding for Unesco, which accounted for a fifth of its annual budget.
Two US laws prohibit giving funding to any UN body that admits the Palestinians as full members before they reach a peace deal with Israel.
'First recognition'
At a ceremony in Paris, President Abbas hoisted the red, black, white and green Palestinian flag outside Unesco's headquarters.
"This is truly a historic moment," he said to cheers from some of the 50 guests. "This admission is the first recognition of Palestine."
"It is moving to see our flag raised and for it to be flying in this beautiful city of Paris, among all the other states. This bodes well for Palestine becoming a member of other international institutions," he added.
"Today, we are members of Unesco and we hope we will have one independent state in the future that will live side-by-side with Israel."
The director general of Unesco, Irina Bokova, said she hoped Palestine's admission would be a step towards peace with Israel.
"A solution with two states living in peace and security has been long-awaited," she said. "I want to believe that this admission to Unesco is a chance to show that peace is also built through education and culture."
Unesco's decision does not have any direct impact on the stalled bid for recognition of a Palestinian state at the UN, which Mr Abbas submitted to the Security Council in September. The US has threatened to veto it.
The Palestine Liberation Organisation (PLO) has only observer status.
The Palestinians have long sought to establish an independent, sovereign state in the West Bank, including East Jerusalem, and the Gaza Strip. However, two decades of on-and-off peace talks have failed.
The latest round of negotiations broke down a year ago over the issue of Jewish settlement building in the West Bank and East Jerusalem.
Israel has said that Unesco's admission of Palestine will bring no change on the ground, but further remove the possibility for a peace deal.