Iran state TV shows 'CIA spy confession'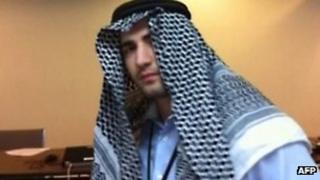 Iranian state TV has broadcast what it says is the confession of an alleged CIA spy, a US man of Iranian descent.
The man, named as Amir Mirzai Hekmati, was shown allegedly confessing to a mission to infiltrate Iran's intelligence services.
The report said Mr Hekmati joined the US Army in 2001 and received special training before being sent to Iran.
When the man's capture was first announced on Saturday, US officials rejected the claim as propaganda.
Washington has made no comment on the alleged confession.
The TV report said Mr Hekmati came to the attention of Iranian agents at Bagram air base in Afghanistan, before he went to Iran.
He was shown speaking Farsi and English, describing his alleged mission to infiltrate Iran's intelligence ministry.
Iran's government has repeatedly accused the United States of carrying out covert intelligence operations in order to undermine it.
In May, Tehran claimed it had detained a network of 30 CIA operatives, saying they had been involved in espionage and sabotage.
Last week, Iran indicted 15 people on charges of spying for America and Israel but gave few other details.
Washington has acknowledged that Iran was in possession of a sophisticated US reconnaissance drone which came down on Iranian territory.