UN warns Yemen amnesty plan 'breaks human rights law'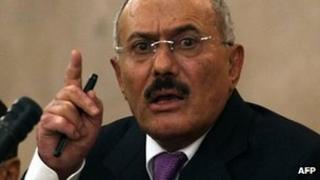 UN human rights chief Navi Pillay has said Yemen must ensure that anyone who committed crimes during recent anti-government protests will face justice.
Ms Pillay said a proposed deal granting amnesty to all involved in the unrest would break international law.
"It would violate Yemen's international human rights obligations", she said.
President Ali Abdullah Saleh has agreed to stand down in February on condition that he and his family are granted immunity from prosecution.
Yemen's anti-government protests began in January 2011 amid the wave of regional uprisings. Hundreds of people were killed and thousands injured as security forces cracked down on the unrest.
Ms Pillay said she had been "closely following" a debate in the Yemeni parliament amnesty, which, it is believed, will save many of Mr Saleh's aides and allies from prosecution.
"International law and the UN policy are clear on the matter: amnesties are not permissible if they prevent the prosecution of individuals who may be criminally responsible for international crimes including war crimes, crimes against humanity, genocide, and gross violations of human rights," she said.
"Based on information we have gathered, there is reason to believe that some of these crimes were committed in Yemen during the period for which an amnesty is under consideration," she said, without naming any potential suspects.
Mr Saleh signed an agreement on 23 November under which he ceded power to his Vice-President Abedrabbo Mansour Hadi. However he remains president until February, when he will stand down ahead of elections scheduled for 21 February.
On Friday, tens of thousands of Yemenis held street protests, demanding that Mr Saleh - who ruled Yemen for more than 30 years - honour his agreement to relinquish the presidency next month and to release political prisoners.
"We ask for justice among all members of society. We are not simply asking for one person to leave power," said one protester, Abdullah Moataz.
Protests were also held in December calling for Mr Saleh to face prosecution over the deaths during the unrest.