Iran and the undeclared campaign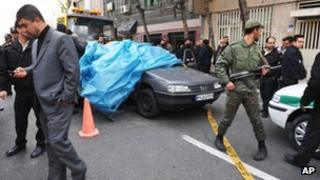 The assassination on Wednesday of another Iranian nuclear scientist may now prompt Iran to try to respond in kind.
The murder in Tehran of Mostafa Ahmadi-Roshan is the fourth such attack on Iran's scientists in just two years.
It comes on top of a sophisticated cyber sabotage programme and two mysterious explosions at Iranian military bases, one of which in November killed the general known as 'the godfather' of Iran's ballistic missile programme.
No-one is claiming responsibility for these attacks but Iran blames its longstanding enemy, Israel, and occasionally the US.
Whoever is behind them, Iran is clearly being subjected to an undeclared campaign to slow down its nuclear programme, which the West and Israel suspect is aimed at developing an atomic bomb.
The latest Iranian scientist to die was killed by a magnetic bomb, attached to his car, a Peugeot 405, by two men on a motorbike.
Whoever was targeting him clearly knew his route, his car and his timings.
The small, professionally made device was designed to kill its victim but cause only limited damage to the surroundings.
It bears a striking similarity to the bomb used in November 2010 to kill another nuclear scientist, Majid Shahriari.
A motorbike bomb killed a physics professor earlier that year and another device narrowly missed killing the man tipped to be the next head of Iran's Atomic Energy Organisation.
'Decapitation strategy'
Mostafa Ahmadi-Roshan, who was killed on Wednesday, was both a university lecturer and a senior supervisor at the Natanz uranium enrichment facility.
In such a secretive country as Iran it is hard to determine how much difference, if any, his death will make to the accelerating nuclear programme which experts in the West believe may now have overcome many of the earlier obstacles to building a bomb.
"It's conceivable it could have an impact on retarding the programme", says Mark Fitzpatrick, an expert on nuclear proliferation at the International Institute for Strategic Studies (IISS) in London.
"There are a few key technical areas that Iran has not yet mastered... so a decapitation strategy is an effective measure for retarding this process. But it may be that Iran is beyond this point".
So who is behind this undeclared campaign?
No-one is putting their hand up, but Israel has made no secret of its delight at any setbacks to Iran's nuclear programme, which it fears may soon become a threat to its existence.
In the past its officials have either denied any part in the attacks or refused to comment. But Israel's overseas intelligence agency Mossad is believed to have one of the best networks of informants and operatives in the Middle East.
In 2011 an Iranian confessed to being recruited by Mossad to assassinate a scientist earlier in the year, although coerced confessions are commonplace in Iran.
The Stuxnet computer virus, stealthily introduced into Iran's nuclear programme in 2009 and which wreaked temporary damage on its centrifuges, is believed to be the work of US, Israeli and possibly British cyber experts.
Retaliation?
So far, Iran has not responded to these attacks, other than loudly condemning them and vowing to continue its nuclear programme.
But this latest killing could prove to be the proverbial straw on the camel's back, prompting Iran's powerful intelligence agency, Etilaat, and the Revolutionary Guards' Quds Force to carry out some attacks of their own overseas.
If they wanted to retaliate against the US they certainly have enough operatives in Iraq and Afghanistan to make life difficult for the Americans there.
Striking out at Israel's nuclear scientists would be harder - they are said to be well guarded and Israeli intelligence has been bracing for some kind of Iranian reaction.
Sir Richard Dalton, Britain's Ambassador to Iran from 2002 to 2006 and now an associate fellow at the UK think tank, Chatham House, believes the undeclared campaign against Iran's nuclear scientists is entering a dangerous phase.
"The next step is for Iran to answer like for like" says Dalton.
"If a state is behind this then this is international state terrorism and it's inviting a response. It looks like a further twist that will lead to a tit-for-tat".