Head of Saudi Arabia's religious police replaced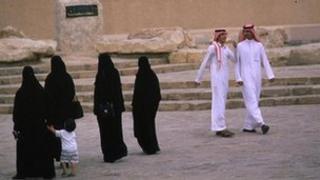 Saudi Arabia's King Abdullah has dismissed the head of the country's feared religious police, the "mutawa".
Abdul Latif Abdul Aziz al-Sheikh replaces Abdul Aziz al-Humain as head of the Commission for the Promotion of Virtue and Prevention of Vice.
The state news agency cited no reasons for the decision, but the new head is said to be more open in his attitudes.
It comes at a time when some Saudis have complained openly the religious police is growing more aggressive.
Its officers roam the streets enforcing strict segregation of the sexes, an absolute prohibition of the sale and consumption of alcohol, a ban on women driving and many other social restrictions.
Those who refuse to obey their orders are often beaten and sometimes put in jail.
Public relations
Correspondents say public criticism of the religious police was once rare, but now its role is openly discussed. There have been several incidents recently when it has been accused of overstepping its authority.
In 2002, 14 girls died in a fire at their school in Mecca after religious police officers allegedly prevented male rescuers from entering.
After becoming head of the religious police in 2009, Mr Humain sought to improve its image by hiring consultants to restructure the organisation, meeting human rights groups and consulting public relations firms.
It also investigated and punished some officers for misconduct.
Mr Sheikh is a descendant of Mohammed Ibn Abdul Wahhab, the founder of an Islamic revivalist movement which formed an alliance with Saudi Arabia's ruling family, the Al Saud, in the 18th Century.
Mr Sheikh's family remains closely allied to the king's, and his relatives occupy the positions of Saudi Arabia's grand mufti, head of King Abdullah's advisory Shura Council and the minister of Islamic affairs.