Hosni Mubarak trial: Lawyers open defence case in Cairo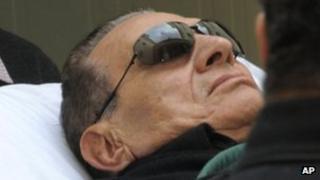 Lawyers for the ousted Egyptian President, Hosni Mubarak, have begun arguing the case for the defence, in a court in Cairo.
Mr Mubarak is accused of ordering the killing of demonstrators during unrest which led to his resignation last year.
His lawyer Farid al-Deeb said his client was innocent, describing him as a clean leader, who obeyed the law and worked tirelessly for his country.
The defence's arguments are expected to last three days, state media report.
Mr Mubarak's two sons, one-time heir apparent Gamal and Alaa, are facing separate charges of corruption with their father in the same trial.
'Clean hands'
Mr Deeb described the former president as a man worn down by illness after devoting his entire life to the service of his nation.
He argued that he had been mauled by malicious talk targeted from all sides, with his reputation being slandered by tongues and pens.
"There is no way that Hosni Mubarak, who is accused of murder and abusing his power, is the same Hosni Mubarak I am about to describe," Mr Deeb told the court. "He is a man with clean hands and a pure heart."
"A man like him cannot be held responsible for criminal acts like those he is accused of committing," he added.
Mr Deeb cited testimony from Omar Suleiman, the former intelligence chief who served as vice-president in the last days of Mr Mubarak's rule, that senior police officials had not been ordered to open fire but told only to "deal with the protests in the usual manner".
The BBC's Jon Leyne in Cairo says it was a classic piece of oratory from a lawyer well known in Egypt for his high-profile clients and silver tongue.
Our correspondent adds that it appears as if the lawyer does not have any of the big surprises Egypt's press has suggested he might have up his sleeve.
The former president was wheeled into the court, at the capital's police academy, on a stretcher, but was later reported to have sat in a wheelchair.
Lawyers for the 83-year-old have been quoted as saying Mr Mubarak is unable to sit up due to the risk of stroke.
The trial against Mr Mubarak began last August and the case against him culminated in early January, when chief prosecutor Mustafa Suleiman argued it was impossible that Mr Mubarak had not ordered police to open fire on protesters, leaving more than 800 dead.
But the BBC's Jon Leyne in Cairo says prosecutors have complained of a lack of co-operation from the interior ministry in producing evidence, and the case has been weakened by a key witness changing his testimony.